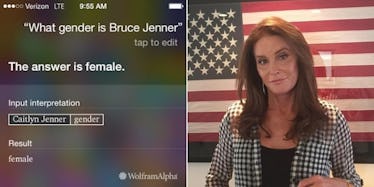 Siri Has Best Response For Anyone Still Calling Caitlyn Jenner 'Bruce'
Siri hasn't been very nice this week, but she may be having a change of heart.
It was recently discovered the iPhone assistant stands up for Caitlyn Jenner.
Apparently, if you ask Siri something using Caitlyn's former name, she will correct you. She no longer recognizes Bruce Jenner as a person.
Also, if you ask about Bruce Jenner's gender, Siri doesn't mess around. She simply says Jenner's gender is female.
Whoever is programming Siri these days knows exactly what he or she is doing. Good work, Apple.
Siri takes a stand for Caitlyn Jenner.
And she respects Caitlyn's transition without question.
Citations: Siri Shuts Down Anyone Who Tries To Call Caitlyn Jenner By Her Old Name (BuzzFeed)