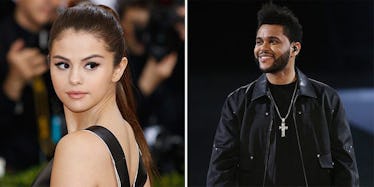 Creepy Side-By-Side Pics Prove The Weeknd Looks Just Like Selena Gomez's Dad
REUTERS/REX/Shutterstock
It's often said people tend to look for a significant other who low-key has the same qualities as their parents.
If you don't believe in this cliched dating theory, just ask Selena Gomez and The Weeknd.
Last week, the world couldn't stop looking at photos of Selena Gomez and The Weeknd as the new couple ran around Italy on an insanely romantic getaway.
Then, fans ogled over the couple as they made their first post-vacation appearance during an intimate dinner at Sunset Tower in Los Angeles on Monday night.
Now people can't stop staring at Selena Gomez and The Weeknd for an entirely different reason.
Someone recently shared an adorable snapshot of the new couple alongside a throwback photo of Selena Gomez's parents from the '90s on Instagram.
If you take a close look at the photo of the young celebrity couple and the picture of Selena's now-estranged parents, you'll start to notice there are some striking similarities between the two images.
Yep, these creepy side-by-side pics prove The Weeknd looks just like Selena Gomez's dad.
No, really, this takes the whole "dating someone who reminds you of your father" thing to a new level.
The photo of Selena's parents, Ricardo Joel Gomez and Amanda Dawn Cornett, was snapped shortly after the young singer was born in 1992.
In the sweet snapshot, you can see Cornett, who was just 16 years old at the time, holding her precious baby, Selena, as her father smiles at the camera.
Despite the differences in age and hairstyles, you'll see that Selena Gomez and The Weeknd are basically a modern-day version of her parents.
The photo has since gone viral, racking up over 26,000 likes (at publish time) and a long list of comments on Instagram.
But then again, you can't blame people for losing their minds over this uncannily similar side-by-side pic because, let's be real, the whole thing is pretty damn bizarre.
Citations: Some girls DO want a guy just like their dad! Photo of Selena Gomez and beau The Weeknd causes a stir online because the couple looks EERILY like Selena's parents back in the '90s (Daily Mail)