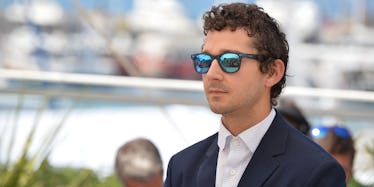 Shia LaBeouf's Elvis-Themed Vegas Wedding Was Even Weirder Than You Think
Shutterstock
Hollywood weird-ass Shia LaBeouf had a weird-ass wedding to his weird-ass fiancée, and we're all better for it.
Shia and his eternal lady love, Mia Goth, were wed in Las Vegas by an Elvis impersonator.
They cried, they danced, they closed out their vows with Elvis-themed puns: It was everything we've come to expect from a traditional, fairytale ceremony.
JUST KIDDING. IT WAS NUTS AF.
The "Nymphomaniac: Vol. II" costars committed their lives to each other at theme chapel Viva Las Vegas, TMZ reports.
Shia -- whose upcoming film "American Honey" looks stressful and statement-y in a voice-of-a-generation kind of way -- can now add Vegas wedding to his list of bizarre life choices, which previously included:
1. Live-streaming himself riding in an elevator for a full 24 hours. 2. Spending three days watching his own movies with fans at the Angelika Film Center. 3. Recording an insane, 30-minute motivational speech advising viewers to "JUST. DO IT." 4. Trying to stab his neighbor in Van Nuys, California. 5. Being kicked out of the audience during a Broadway performance of "Cabaret" for causing a disturbance. 6. Wearing that paper bag on his head to the "Nymphomaniac: Part I" premier that read, "I AM NOT FAMOUS ANYMORE."
Once you rack up the greatest hits, a Vegas wedding officiated by either an Elvis super fan or the actual ghost of Elvis doesn't seem so outlandish.
In fact, Shia seems sort of mellow now that he's settled down.
Granted, this is the same man who, just last year, claimed he "would have killed" Mia during a fight the pair had in Germany.
Video footage obtained by ET showed Shia telling bystanders after a 2015 altercation,
I don't want to touch a woman. I don't want to hit a woman, but I'm getting pushed.
OK, chief. That statement should probably end after "I don't want to hit a woman," but far be it from me to mar your wedding day with sound advice.
Best wishes to the happy couple!
Citations: SHIA LABEOUF HITCHED IN VEGAS BY ELVIS (TMZ)