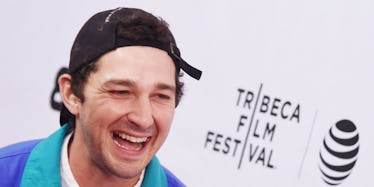 Shia LaBeouf's Missy Elliott Tattoos On His Thighs Prove He Gets His Freak On
REX/Shutterstock
If you don't love Missy Elliott, you can get out of my face right now. I don't ever want to see you again.
That said, I have zero Missy Elliott tattoos while Shia LaBeouf actually loves the musician so much he has two.
The rumors of these glorious tats started to circulate in September, but the actor took pity on us. He appeared on "Ellen" while wearing shorts.
And thankfully, Ellen DeGeneres knew she had to ask him about his tats.
(And also he just got married, non-officially, and accidentally live-streamed it, so they talk about that too -- BUT TELL ME MORE ABOUT MISSY, SHIA.)
Shia, you slay me.
He has a few artists on his thighs that he said he loves, including The Notorious B.I.G, Tupac, Prince and Dr. Dre.
But Missy Elliott herself appears twice, and in one tattoo she even rocks "The Rain" music video look.
Shia said of his tattoos,
These are landmarks... they are people I love.
Speaking of people he loves, LaBeouf just wed his girlfriend of four years Mia Goth at what was going to be a private ceremony in Las Vegas (technically it was only a "commitment ceremony").
Both of their mothers were there. He explained the mix-up,
Part of the King Tut package, you get a live-stream deal for free. I said we don't really need that.
When he and Mia Goth got back from the chapel, where I assume Elvis married them because it was in Vegas, the chapel called the pair to tell them there was a mix-up and someone pressed the button to live-stream.
It was picked up by TMZ.
Still, LaBeouf didn't seem too worried, which I love. He said that their fathers couldn't make it, so it was nice that they got to experience it... with everyone else in the world.
Citations: Shia LaBeouf really does have Missy Elliott tattoos on his knees (Mashable)