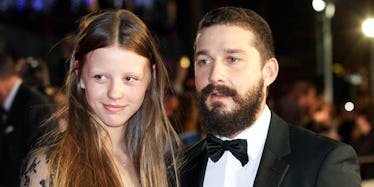 It Turns Out, Shia LaBeouf Didn't Actually Get Married After All
REX/Shutterstock
Apparently, Shia LaBeouf didn't really get married.
So he isn't off the market, after all, ladies!
"PHEW!" — no ladies ever.
On Monday, TMZ released a video of the 30-year-old actor getting married in Las Vegas to his longtime girlfriend, Mia Goth. The theme of the wedding was Elvis/Hawaii.
I KNOW, WEIRD, RIGHT? I can't believe he's 30, either! Time flies!
The TMZ video has since been removed, but here's a little clip from Complex. I think you'll get the idea.
But as it turns out, while the ceremony really did happen and it really was that weird, the couple is not officially married.
On Wednesday morning, Clark County Nevada officials clarified via Twitter the wedding was actually a "commitment ceremony" because no marriage license was filed.
Wait, so you're saying this Vegas wedding, officiated by a barely passable Elvis impersonator and featuring several culturally insensitive "Hawaiian girls," ISN'T official?!
NO FREAKIN' WAY!
So yeah, Shia LaBeouf isn't married.
But he still had the weirdest non-official wedding in all the land, just as we'd all expect him to.
And to end the perfect disaster of a ceremony, the couple rode off in a pink Cadillac together to an unknown honeymoon location.
A TMZ cameraman captured the final moment, which you should only watch if you want to feel deeply, deeply uncomfortable.
Look, is anyone surprised? The answer is no, no one is surprised.
This is the guy who live-streams himself watching his own movies, live-streams himself riding in an elevator and got arrested for almost stabbing his neighbor.
And of course, let us never forget the best/worst piece of performance art of all time: Shia LaBeouf attending a movie premiere with a paper bag on his head that said "I am not famous anymore."
So, given all that, I have one more question for you: Does anyone care if Shia LaBeouf is actually, technically married or not?
The answer is no, no one cares.
Citations: Shia LaBeouf's Wedding Wasn't Exactly a Wedding, According to Officials (Complex)