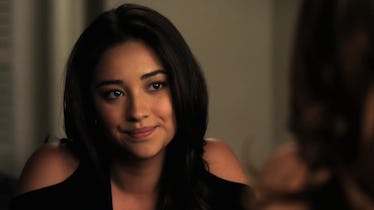 Shay Mitchell Teases 'Pretty Little Liars' Reunion: "You Never Know" – EXCLUSIVE
Freeform
Shay Mitchell is ready to go back to Rosewood, fam. In an exclusive interview with Elite Daily, Mitchell says she wants to do a Pretty Little Liars reunion a little ways down the road. She talks about just having a reunion episode, but considering the fact that she compares her PLL reunion dreams to the Sex and the City movies, it seems like a PLL movie is definitely a possibility in Mitchell's eyes.
When asked about the possibility of a PLL spinoff starring Alison and her crazy life, Mitchell (whose character, Emily Fields, married Alison in the end and therefore could be part of the spinoff) says,
You never know! You never know what could happen. Anything could happen in Rosewood, as I say. But yeah, I think that would be really fun.
Then Mitchell started talking about the Sex and the City movies and how fun she thinks it would be to do a PLL reunion just like it, except with all of the drama and mystery of Rosewood, of course. She tells Elite Daily,
I always talk about, you know, I just watched Sex and the City recently, the movie, and I think it'd be awesome five, 10 years, we get together and do a Golden Girls episode of PLL.
A "Golden Girls episode" of PLL would be amazing to see. Seeing the liars older and wiser would undoubtedly be a very welcomed story by fans of the show. But given Mitchell's reference to the Sex and the City movies, it seems like Mitchell could be interested in a Sex and the City-esque PLL movie where we get a brand new adventure for the liars on the silver screen. Either option would send PLL fans into a frenzy.
Mitchell also says the entire cast (minus Lucy Hale) got together to watch the PLL series finale together. She tells Elite Daily,
We all watched the finale together, which was really amazing and heartbreaking at the same time. It was a lot of different feelings, but it was great. We all got together in LA. Lucy couldn't come, she was shooting something else, but for the most part, a lot of us got to watch it together which was really special.
The best part of filming the final episode of PLL — for Mitchell, at least — was getting to do so many scenes with the entire main cast. She says,
I think [the best part of the finale was] just being all together. We got to be together for a lot of scenes, the whole cast, which was awesome 'cause we don't usually get to do that. And I think, you know, again, just knowing that this is the last episode was very surreal. I remember the pilot episode like it was yesterday. So being with the girls, all of us just crying every single day, you know, it's not something that I'm going to forget.
The last episode... for now.