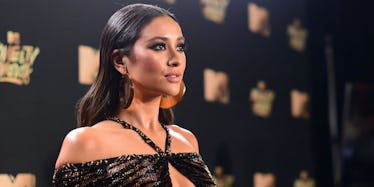 Shay Mitchell Opens Up About 'Pretty Little Liars' Finale: "I Was Blown Away"
Matt Winkelmeyer/Getty Images)
Shay Mitchell likes things spicy.
Whether she's acting, traveling, or cooking, Mitchell, who will always be best known by diehard Pretty Little Liars fans as Emily Fields, is anything but boring.
I got the chance to sit down and talk with Mitchell prior to the launch of her partnership with Stella Artois and its "Host One to Remember" campaign, and I have to say, the real-life Mitchell is just as enchanting as her on-screen character.
Looking effortlessly chic in jeans and a casual tee, Mitchell chatted with me about growing up with her character and how she's saying goodbye to Pretty Little Liars after seven seasons.
"I was blown away," she said of reading the script for the series finale, "but also I mean our writers, as we've all come to know over the seven seasons, have just surprised us every single time. So when it came to the season finale, I knew that this was going to be no exception and they were going to go above and beyond, but I didn't know how above and beyond they were going to go."
Obviously she isn't giving away any spoilers, but Mitchell thinks fans are going to be pleased with how everything ends up.
If the cast, which includes Lucy Hale, Ashley Benson, and Troian Bellisario, are any indication, fans are in for quite a surprise. She shared,
I think because we all read the season finale together it was like a mutual like, 'No way!' Just 'oohs' and 'ahhs' and I think more so than anything just super excited for the fans to get their questions answered.
Mitchell's openly gay character, Emily, garnered a lot of attention and praise from the LGBTQ+ community and the show even earned a GLAAD nomination.
The significance of playing a character who is not only entertaining, but also impactful, is not lost on the actress.
"I couldn't have imagined playing any other character," she said. "I always say this: It's one thing to be on a show that's so entertaining and it's something completely else, it's different to be on a show that has an impact on people's lives. And Emily definitely did have that."
She continued,
Just seeing her arch from season one to season seven and her really come into her own, I don't know, it reminded me of my adolescence and me being in high school. I did that exact same kind of arch. And you really grow up. I love the fact that all the girls maintain their relationship and that closeness. It was a really really fun character and arch to play.
After filming wrapped last fall, Mitchell posted an emotional tribute to the show, and the video had everyone crying along with her.
When asked if there would be more tears when it comes time for fans to say goodbye, she didn't hesitate to admit,
I really need to be with people to watch it. I don't want to be by myself… it's going to be extremely emotional again because this is the last time our show will be airing a new episode.
Mitchell said she has already discussed getting together with the cast for a final viewing party, which we can only hope will be documented on social media.
Speaking of parties, the 30-year-old actress knows how to throw one.
I was lucky enough to attend the Stella Artois Braderie, a Belgian-inspired street fair hosted by Mitchell to kick off her partnership, and it did not disappoint.
The soirée included flower crowns made out of peonies, burgers with a special spicy Aioli sauce made by Mitchell herself, and personalized Stella chalices for party favors.
Mitchell said "it's the personal touches and it's the things you just wouldn't assume" that make a party memorable.
Those details don't have to be expensive, either. She explained,
I also think with decorations, it's so easy. Pick wildflowers, put them on a table. Use newspapers as table settings... There's so many different ways to be creative and yet keep things on a budget.
Just make sure you also provide plenty of tissues along with your wildflowers if you are throwing together a Pretty Little Liars watch party for the series finale.