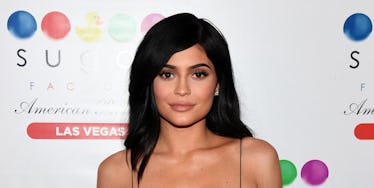 There's Now A "Sexy" Pregnant Kylie Jenner Costume Because You People Ruin Everything
Ethan Miller/Getty Images
Listen, people, here's what we're not going to do: We're not going to dress as a "sexy" pregnant Kylie Jenner for Halloween. Nope. Nada. Zilch. Not happening. A "sexy" pregnant Kylie Jenner costume is now available for purchase on Yandy.com, and although the technical name of the costume is "Reality Star In The Making," it's obvious who the costume is made to emulate. Look, guys, dressing as Kylie Jenner for Halloween is not a bad thing. And if you're already pregnant and want to dress as Jenner, go for it. You'll slay. But a "sexy" pregnant Kylie Jenner costume is not the way to go about dressing as the youngest member of the Kardashian/Jenner family. If you don't understand why this isn't cool, allow me to explain.
The whole idea of "sexy" versions of Halloween costumes is just a thing people came up with years ago to make women feel like they had to sexualize themselves in order to look good on Halloween (as if it's other peoples' jobs to decide how good we look). Think Mean Girls: The "best" girls wore lingerie with some form of animal ears, and any girl who didn't come dressed in Victoria's Secret was deemed undesirable, i.e. Cady Heron and her "ex-wife" costume.
This "sexy" pregnant Kylie Jenner costume is only adding to the backwards Halloween trope dictating that women need to bare all of their skin in order to have a "good" costume. When Caitlyn Jenner first came out as transgender in 2015, "sexy" Caitlyn Jenner costumes immediately started popping up on costume sites. Never mind the fact that the costume sexualized a trans woman who spent a large chunk of her life trying to work up the courage to come out. These "sexy" versions of celebrity costumes take very personal aspects of these celebrities' lives and sexualizes them, and it's messed up. It doesn't matter how openly sexual Kylie Jenner is — she should be allowed to experience her (albeit still unconfirmed) pregnancy without the fear of people making fun of her for it. And yes, a "sexy" pregnant Kylie Jenner costume 100 percent makes fun of her. So we're not going to do it, OK? Great. Glad we're all on the same page.
The "Reality Star In The Making" costume comes with a white dress and a baby bump to wear under it. It costs $59.95, but remember, we're not gonna do it!! The site's description of the costume reads:
Boost your show's ratings in this exclusive Reality Star in the Making costume featuring a white dress with a V-neckline, criss-cross spaghetti straps, a ruched and wrapped bodice, and a faux pregnant belly with a tie back closure. (Wig and phone not included.)
Nope.
Noooppppeeeeee.
Let's go back to this "boost your show's ratings" comment. WHAT THE?! I CAN'T EVEN??? That is an alarmingly not OK thing to say. Sources close to the Kardashian/Jenner family say Jenner's pregnancy wasn't planned, but she and Travis Scott are still thrilled about the news. Can you imagine how you would feel if you found out you were having a baby, and someone said that you only got pregnant to boost your own popularity? Messed up.
Just because Kylie Jenner is one of the most famous people in the world right now doesn't make it OK to exploit and sexualize the extremely personal experience she's going through. Even if, in the time between now and Halloween, Jenner comes out and says she's not actually pregnant and all of the rumors are false, it's still not cool to wear a "sexy" pregnant Kylie Jenner costume. Just don't sexualize personal parts of peoples' lives, and don't make women feel like they have to wear something "sexy" on Halloween, OK?