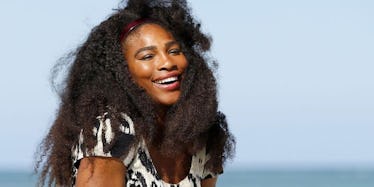 Serena Williams Goes Topless In A Thong For New Sports Illustrated Shoot
REX/Shutterstock
Following her win over her sister Venus in the 2017 Australian Open Final, Serena Williams reclaimed her spot as the number one female tennis player in the world.
So, how does the number one player in the world celebrate winning her seventh Australian Open title and getting back to the top?
Well, if you're Serena Williams, you commemorate the milestone achievement by taking off all your clothes and posing for a ridiculously sexy photo shoot for the 2017 Sports Illustrated Swimsuit issue.
Sure, Kate Upton landed the cover of the 2017 Sports Illustrated Swimsuit issue, but as you'll soon see, Serena Williams absolutely stole the show.
So, without further ado, check out the very sexy Serena Williams' photo shoot for the 2017 Sports Illustrated Swimsuit issue.
Yeah, those are pretty damn sexual, right? Like, we knew this woman could slay on the tennis court, but who knew she was such a natural in a bikini in front of the camera.
Move over Nina Agdal and Ashley Graham, it's Serena Williams' time to shine!
But hold the phone, people, because Serena's sexy photo shoot really took a turn for the hot and steamy when she ditched the top and posed topless wearing nothing but a thong!
Don't believe me? Take a look!
Yeah, I'm actually at a loss for words.
The 35-year-old Williams is clearly amazing at everything, and I'm over here trying not to trip over my own two feet while running to catch the train.
For those of you who want more -- because, like, why wouldn't you want more? -- Sports Illustrated Swimsuit posted a really awesome video of the Serena Williams photo shoot on its Instagram page.
As you can see in the video above, it takes quite a few people to put together just a handful of photos for the Sports Illustrated Swimsuit issue.
However, don't lose track of the fact Serena Williams is the real star of the show, and she always will be.
Citations: Serena Williams Busts Out The Thong, Goes Topless In Sexy Sports Illustrated Swimsuit Shoot (Bro Bible)