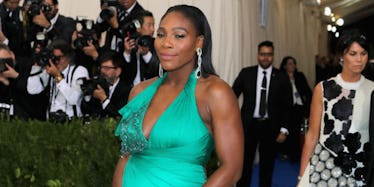 Pregnant Serena Williams Poses Nude For Cover Shoot, Reveals Baby Details
Neilson Barnard/Getty Images
Can we PLEASE talk about how glam it is to be pregnant these days? In Serena Williams' nude pregnancy cover shoot for Vanity Fair, she is certainly bringing baby back.
Oh, and love. Also love.
The article focuses on Williams' romance with fiancé and 34-year-old Reddit co-founder, Alexis Ohanian, and literally starts with the sentence, "This is a love story."
What follows is a sweeping, moving piece outlining the timeline of their relationship, leading up to her now famous pregnancy.
Williams was anywhere from four to eight weeks pregnant when she famously won the Australian Open this past January, and while only a small circle of close friends knew, Williams could feel her body's changes on the court.
Vanity Fair reports,
Because of the pregnancy she did not have the same endurance. She could uncharacteristically feel herself getting tired between points, particularly long ones. If a match went to three sets she knew she would lose, so she was determined to make every match two sets.
Yo, of course your girl won anyway.
While Williams says the pregnancy does seem to be moving quickly, as of May, she and Ohanian haven't made many preparations for a newborn.
She said, "I don't know what to do with a baby. I have nothing ... I've done absolutely nothing for the baby room."
In the beginning, Williams didn't even believe she was pregnant. Friend Jessica Steindorff suspected something was up when Williams unexpectedly became ill, and forced her tennis champion friend to take a pregnancy test. Actually... six pregnancy tests.
Instead of telling her fiancé with, like, words... she just handed him a bag of positive pregnancy tests.
Ugh. So Serena. So cool.
Right now, Ohanian and Williams have a bi-coastal relationship and see each other on weekends. While they intend to move in together officially once they are married, Williams says she is "trying to enjoy the little freedom" she has left for now.
In the meantime, I suspect she feels some pretty strong baby kicks assuming her baby is as strong as the star.
Congratulations, you two wild, crazy, rich kids! We can't wait to meet your kiddo.