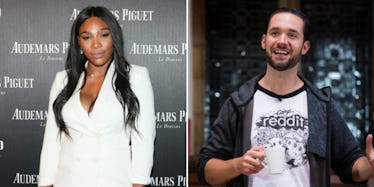 Serena Williams Is Engaged, And She Posted All The Romantic Details On Reddit
REX/Shutterst
Game, set -- it's a match. The score is love-love. They will be playing doubles forever.
Serena Williams is an engaged woman. Naturally, since her new fiancé is Reddit cofounder Alexis Ohanian, she took to the site to serve up all the details.
(I'll stop with the tennis puns now. I'm sorry.)
The two created a subreddit called "isaidyes." Serena Williams wrote,
I came home / A little late / Someone had a bag packed for me / And a carriage awaited / Destination: Rome / To escort me to my very own 'charming' / Back to where our stars first collide / And now it was full circle / At the same table we first met by chance / This time he made it not by chance / But by choice / Down on one knee / He said 4 words / And / isaidyes
Ohanian replied,
And you made me the happiest man on the planet.
The happy couple apparently met at a lunch, according to a source that spoke with Us Weekly.
The source said that Ohanian was with Williams at the Los Angeles School of Gymnastics last year. Before Williams, Ohanian wasn't even into tennis, but he quickly picked up the sport.
The source added,
He called her babe and they held hands.
Many fans are surprised by this engagement, especially because the couple have kept their relationship quiet with just a few Instagram photos together. They have been dating since October of last year.
The couple were first spotted on a date together in San Francisco. The restaurant released surveillance video of the date after a man stole Williams' phone off the table.
When the tennis pro realized what happened, she got up and caught the man outside like a true badass.
Williams has 22 Grand Slam titles, 16 titles in doubles and is considered one of the greatest athletes of all time. She is expected to win her seventh Australian Open title next month in Melbourne.
Ohanian, along with cofounding Reddit, is the author of "Without Their Permission."
Citations: Serena Williams Engaged to Reddit Cofounder Alexis Ohanian — All the Details on His Romantic Rome Proposal (Us Weekly)