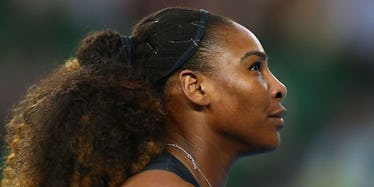 Serena Williams Posts Emotional Letter To Her Baby: 'I Can't Wait To Meet You'
Listen, there is no mom better than my mom. She is the strongest, bravest most badass woman I know and I will tell you and anyone else that until the day I die, probably whispering my mom's name with my last breath.
That being said... Serena Williams is, like, a close second.
The all-star tennis player and 23 time Grand-Slam champion recently announced her pregnancy with Reddit Co-founder and fiancé, Alexis Ohanian, to her fans' absolute delight.
SERENA, YOU'RE A DIAMOND IN A SEA OF PEBBLES. BE MY MOM.
I mean, what?
Williams and Ohanian have since embarked on a babymoon to Mexico where Williams caught this picture of her baby bump and shared the photo to her fans on Instagram.
In the caption, Williams included a note to her unborn baby and boy, oh boy, did it make me call my real mom after I read it.
My Dearest Baby, You gave me the strength I didn't know I had. You taught me the true meaning of serenity and peace. I can't wait to meet you. I can't wait for you to join the players box next year. But most importantly, I am so happy to share being number one in the world with you.... once again today. On @alexisohanian bday.
This all comes at the same time The Women's Tennis Association posted its updated rankings, announcing that Serena is back at number one.
A fiancé, a baby on the way AND being the best in the world at doing the thing you love most?
It's like, we get it, Serena... you have the super human strength of a fictional character but all the approachability of a mere, lovely mortal. UGH.
For obvious reasons, Williams will be sitting court side this upcoming tennis season, but fans can expect her to return in 2018... an adorable, amazing, wonderful baby in tow, probably.
Citations: Serena Williams Pens Emotional Note to Her Unborn Baby: "You Gave Me Strength I Didn't Know I Had" (E! Online)