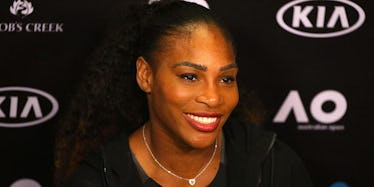 Serena Williams Admits She Posted Baby Bump Pic By Accident In Awkward Interview
Getty Images
On April 19, current world No. 1 tennis star Serena Williams announced her pregnancy with a Snapchat mirror selfie that showed off her baby bump.
Naturally, the internet freaked out and then did what the internet does and analyzed the shit out of it.
It didn't take long to realize if Serena was 20 weeks pregnant on April 19, she was already pregnant when she won the Australian Open back in January.
So, yeah, she's a total badass, but we already knew that.
It does appear, however, Serena might not be as dominant on social media as she is on the court.
In fact, the 35-year-old admitted she wasn't quite ready to share the news of her pregnancy when she posted that snap -- she was actually just documenting it for herself.
During a TED conference in Vancouver on Tuesday, Serena told Gayle King,
On social media, you press the wrong button and… 30 minutes later I missed four calls and I'm like, 'That's weird.'
Oops! It's OK, Serena, we have all pressed the wrong button on our phones and sent things out into the world we didn't mean to. It could have been WAY worse.
She continued,
I have this thing where I've been checking my status and taking pictures every week to see how far along I'm getting. I've been so good about it, but this was the one time it slipped.
It turns out, she wasn't planning on keeping the secret much longer anyway. She said she was only planning on waiting "5 or 6 more days," and called the revelation a "good moment."
She posted a much more official baby bump photo on Instagram on Monday, captioning the pic,
My Dearest Baby, You gave me the strength I didn't know I had. You taught me the true meaning of serenity and peace. I can't wait to meet you. I can't wait for you to join the players box next year. But most importantly, I am so happy to share being number one in the world with you.... once again today. On @alexisohanian bday. from the world's oldest number one to the world's youngest number one. -Your Mommy
Her fiancé, Reddit co-founder Alexis Ohanian, posted his own adorable announcement as well.
Speaking on their relationship, Serena said,
I never felt pressured to get married and I can't say I'm the marrying type of person. I love my life, I love my freedom, and I love my career. I always felt I didn't want anything to interfere with that. But really, he's very loving and he's very kind. He's very considerate.
Social media savvy or not, Serena Williams is one incredibly gorgeous and talented mommy-to-be.
Citations: Serena Williams Reveals She Announced Her Pregnancy on Snapchat By Mistake (Us Weekly)