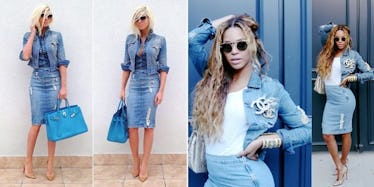 Serbian Pop Star Claims Beyoncé Has Been Stealing Her Style For Years (Photos)
Back in March, we told you about a Serbian pop singer who accused Kim Kardashian West of stealing her look.
The Eastern Bloc pop star's name is Jelena Karleusa. After Kim K dyed her hair blonde, Karleusa came after Kim on Instagram.
At the time, the evidence seemed pretty damning. But now, Karleusa is also accusing Beyoncé of jacking her swag.
Karleusa posted a bunch of photos on Instagram and claimed she created certain looks before Bey tried to pass them off as her own.
There is some evidence to support Karleusa's claims, but would Kim and Bey really style steal like this?
Kareleusa seems like she's reaching a bit here. Check out the photos below and judge for yourself.
This definitely seems fishy.
And these examples are pretty damning.
But, this one seems more coincidental.
Citations: DID BEYONCE COPY THIS WOMANS STYLE (ELLE)