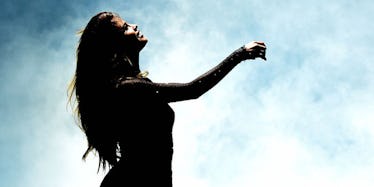 When Is Selena Gomez Going On Tour? Fans Can't Wait For Her Next Show
Kevin Winter/Getty Images
Selena Gomez is slaying so hard right now and fans can't get enough.
Between her insane new hit "Bad Liar," incredibly popular Netflix series 13 Reasons Why, a new house, and one new smokin' hot (and super rich) boyfriend, 2017 is kind of shaping up to be her year.
This leaves all of us wondering: Is she going to go on tour or literally what?!
Earlier this week, Gomez teased across her social media platforms that fans can expect a "Bad Liar" film to be released today, Wednesday, June 14, and my spidey senses are wondering if a tour is going to sneak up behind it and blow all of our minds.
In doing the most preliminary of digging on the internet, no news or rumors seem to be swirling about a tour yet, but that doesn't mean I'm giving up hope.
Selena Gomez has been releasing the smallest hints about her upcoming "Bad Liar" projects and today she'll send huge news our way.
A 2017 tour seems ripe for the surprise-attack picking.
Her 2016 Revival tour carried her to 55 different cities and lasted the duration of Summer 2016. It kicked off in May and wrapped up in August, making her just about due for the next journey.
Known for posing with her fans and posting crowd pics on Instagram, Selena always puts an emphasis on having an organic relationship with the people who support her.
She had said in an Entertainment Weekly interview about the Revival tour,
Whether you're my fan from the beginning or just barely even know one song of mine, I want you to be able to see this show and know that it's possible for anybody to do what they love. It's not an untouchable thing, whether it's singing or acting or getting out of your hometown. It's bigger than just myself. I care about what people going to see and take away from this tour.
WE care about YOU, Selena! Keeping our eyes peeled and our hopes high.