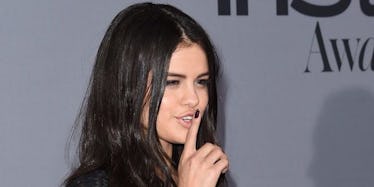 Selena Gomez Paid An Insane Amount Of Money For Her Gorgeous New LA Home
REX/Shutterstock
OK, Selena Gomez. I get it. You're a rich pop star with the ability to buy a 2.25 million dollar – what E! News is calling "modest" – home and I bought lunch from a vending machine today. We're all just human, you know?
The singer of "Bad Liar" fame purchased a seriously stunning home in Studio City, California, and at the 2.25 price tag, people are calling it a deal for a celeb of her status. However, I'm calling it a "Mmm-Hmm, What Now?"
The house, which happens to be a super cool, super low-key 3,188 square feet, holds four chill bedrooms, four chill bathrooms, and two chill, chill, chill walk-in closets, just for good measure.
Other details include super relatable things like french doors, hardwood floors and souring vaulted ceilings, because homegirl needs her space.
It is all very similar to my IKEA filing cabinets, water damaged ceiling and futon that I bought with money I made from being a TaskRabbit.
If those details on Selena's home weren't low-key enough, she also has mad fireplaces to hang out by on those frigid LA winter nights, a spa master bathroom to cool off in during the summer heat, and a kitchen that my whole apartment could fit in.
In the freaking backyard, there's a pool – OBVIOUSLY. WHAT IS SELENA, A FREAKING PLEBIAN? – another spa, an "entertaining" pavilion, (as opposed to a regular pavilion,) and Selena's own fruit and vegetable garden for when she gets the munchies but also wants to keep it organic.
Her chill AF boyfriend The Weeknd also recently bought a home, and by home I mean a 20 million dollar estate... just a little bit more money than Sel-Sel's palace.
Have I received a housewarming party invitation for either home yet? No. Might I squat in their driveways just in case their gates open and I can sneak in and live in their garages? Probably.
We're all just trying to live, know what I mean?
You can check out pics of Selena Gomez's new place in the video above.
Citations: Selena Gomez's New Los Angeles Home Is Totally Affordable, by Hollywood Standards (E! News)