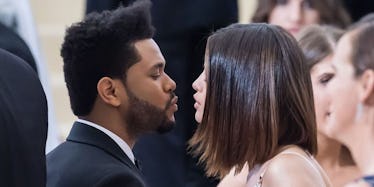 Selena Gomez And The Weeknd's Swoon-Worthy Latest IG Story Is Making Us All Sigh
Gilbert Carrasquillo/Getty Images
If there's one thing young lovers have a fetish for, it's sharing their PDA-filled moments on social media for the world to see and envy. Let's take one of Hollywood's favorite couples for example. Selena Gomez and The Weeknd's Instagram story abounds with not-so-subtle nods to their romance, and as per usual, fans are swooning and hitting repeat.
You're going to be in love with the shape of this Coach bag, The Weeknd's first IG ode to his lovely lady, who has partnered with the company for a limited-edition line. He's showing support for her work, and that's a totally an A+ boyfriend move if ever social media saw one. The two also pulled a similar stunt when they congratulated one another on Instagram for their September issue covers, you know, as you do.
But things didn't stop there. In addition to posting a Selena Coach bag, The Weeknd posted a pic of Gomez herself wrapped in his arms as he plays video games with the caption "home" to accompany the close-and-cuddly shot. D'aww, you two. If you look closely, Gomez's InStyle September cover is on the table in the background (along with what appears to be either pizza or quesadillas, but regardless, they look ever-so inviting).
Gomez has been hush-hush about her previous relationship... and everyone knows how that went. Her on-again-off-again romance with Justin Bieber was so tumultuous and fans were caught up in every last detail. Rather than stress and attempt to hide private details, Gomez claims she's going let everything out with The Weeknd.
"It's really hard when I would want to spend so much time hiding things," Gomez revealed in an interview with People. "It's too much pressure, and I think everyone gets over everything eventually… I just want to be happy."
They both seem happy and don't appear to be hiding anything on social. Happy posting, love birds.