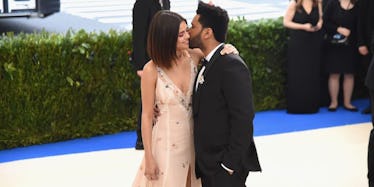 Selena Gomez And The Weeknd's Adorable Latest Instagram Post Spree Is #RomanceGoals
Nicholas Hunt/Getty Images for Huffington Post
Covering things up takes work, and truthfully, at some point you're going to slip. Selena Gomez totally gets it. The pop star's previous (and tumultuous) relationship with Justin Bieber helped her realize she's over keeping secrets and hiding from the public. Now, she seems to have no problem showing off a little PDA with her new love... especially on social media. On Aug. 3, Selena Gomez and The Weeknd's Instagram activity definitely catapulted the two into #RomanceGoals status.
Like many millennials (and by "many," I mean practically none), the two were lucky enough to score September issue covers, the most coveted spot in magazine publishing.
Gomez is on the InStyle fall fashion issue while The Weeknd — along with models Adriana Lima and Irina Shayk — are on the cover of Harper's Bazaar. It's definitely a pretty exciting accomplishment for both stars.
Showing no signs of hiding their romance, the two were quick to not only post photos from their respective features, but like each other's images (because, again, #romancegoals). Gomez kicked off the social media love fest by posting a photo of the Bazaar cover in her stories, along with a little millennial pink heart, according to Cosmo. The Weeknd returned the favor with a clip of Gomez's InStyle profile and an "xo."
Supporting each other's careers and achievements is so sexy, you guys.
Though The Weeknd's interview remains relatively low-key on the love front, Gomez did dish a bit about her relationship.
According to the interview with InStyle, Gomez said,
I don't depend on one area of my life to make me happy. It's really important for me to love and nourish my friends and family and to make sure that I never get influenced by a guy. I've wanted to be in a strong headspace for years, and I really wasn't. Before, I was so young and easily influenced, and I'd feel insecure. You want someone to add to your life, not to complete you, if that makes sense. I'm lucky because he's more of a best friend than anything else.
Best friends do make the best boyfriends, Selena. Cheers to not covering up your love... or your IG activity.