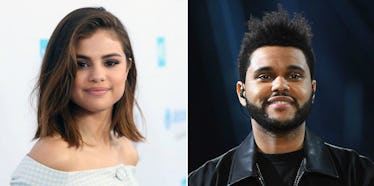 Selena Gomez Calls The Weeknd Her "Best Friend" In New Interview: "I'm Lucky"
Jesse Grant/Getty Images for WE and Pascal Le Segretain/Getty Images for Victoria's Secret
If you guys haven't been paying attention, let me welcome you to the party. This year is all about Selena Gomez. The "Bad Liar" singer is in the middle of a winning streak, bringing us a new, edgier, more confident sound and some serious music video magic with her "Bad Liar" and "Fetish" debuts. Plus, there's that whole amazing boyfriend thing she has going on. In a new interview, Selena Gomez's quote about the Weeknd is oh-so-sweet.
Catching up with InStyle, Gomez gets super candid about her 90-day rehab stint, her mental health, and her seemingly awesome relationship with The Weeknd. In the conversation, Gomez discusses the importance of being able to find happiness in herself before finding happiness with another person. This is significant, considering how tumultuous her previous famous relationship with The Biebs seemed to be.
Still, Gomez has taken the lemons from that experience and made them into grown-up lemonade.
When asked about the happiness her boyfriend, Abel, brings to her life, Selena said,
I don't depend on one area of my life to make me happy. It's really important for me to love and nourish my friends and family and to make sure that I never get influenced by a guy. I've wanted to be in a strong headspace for years, and I really wasn't. Before, I was so young and easily influenced, and I'd feel insecure. You want someone to add to your life, not to complete you, if that makes sense. I'm lucky because he's more of a best friend than anything else.
Stop. We can't handle it.
Just kidding, yes we can.
The two have been happily Instagram-ing photos of one another for six months now, first gracing the world with adorableness at their first public appearance together at the 2017 Met Gala.
Overall, Gomez says she is in an amazing place in life, love, and music.
She says,
I'm not afraid to be wrong now. Because I would rather say, 'I stand by this.' You have to not be afraid to make mistakes because that's how you figure it all out. I'm ambitious in every area of my life. I want to be a better daughter, a better friend, a better influencer. I want to feel something.
Well, we feel you girl. (And your boo-thang.)