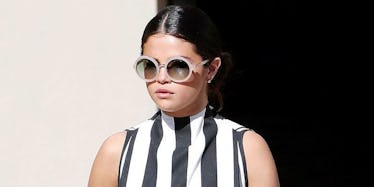 New Pics Show Selena Gomez In Public For First Time Since Going Back To Rehab
REX/Shutterstock
In a somewhat shocking turn of events, this week, it was reported Selena Gomez has been in a rehabilitation facility since the singer announced she was taking a mental health break a few months ago.
Toward the end of the summer, Selena Gomez said she was taking a break from music and canceled 34 upcoming stops on her Revival Tour.
In a statement to PEOPLE, Gomez announced,
As many of you know, around a year ago I revealed that I have lupus. I've discovered that anxiety, panic attacks and depression can be side effects of lupus, which can present their own challenges.
The rehab center Gomez has reportedly been in is located just outside of Nashville, Tennessee and has been described by an Us Weekly source as "private and quiet," yet "super intense."
This past weekend, the 24-year-old Gomez was seen outside of the rehab facility, with photographers snapping several pics of her at what appears to be some sort of arcade.
October 7:Selena at an arcade in TN [HQs] https://t.co/alNm5HaQ82 I'm voting for @SelenaGomez for #AMAs Favorite Female Artist - Pop/Rock! pic.twitter.com/QORueeYDAh — Selena Gomez News (@SelGomezNewsCOM) October 12, 2016
Photos | Selena spotted at an arcade in Tennessee (Oct 7). [1] pic.twitter.com/OGYebdZzPD — Selena Gomez Online (@Selenator) October 12, 2016
INFO : Selena a ete au arcade avec les residents du centre de traitement le 7 octobre au Tennessee pic.twitter.com/cZ6m8hBshn — Selena Gomez FR (@SelenaFansFR) October 12, 2016
Thankfully, Selena Gomez appears quite relaxed and at peace in these photos. Hopefully, she's getting the treatment and support she needs at the rehab facility.
On Wednesday, an Us Weekly source spoke about Gomez, claiming,
She can go to a very dark place.
Elaborating on her decision to walk away from the spotlight for a while, Gomez previously told PEOPLE,
I want to be proactive and focus on maintaining my health and happiness and have decided that the best way forward is to take some time off. I know I am not alone by sharing this, I hope others will be encouraged to address their own issues.
This past weekend, the singer reportedly had dinner with family at the Texas Roadhouse restaurant in Alcoa, Tennessee. She was also spotted having breakfast with her grandparents at Riverstone Restaurant in Townsend, Tennessee.
the queen is back #selenaisbackparty pic.twitter.com/DS2cFQ0yrv — spooky bitch (@kissinqmendes) October 9, 2016
Keep getting better, Selena! We're all rooting for you.
Citations: Selena Gomez cuts a low-key figure as she steps out in Tennessee near rehab facility where she is dealing with 'anxiety and depression' (Daily Mail)