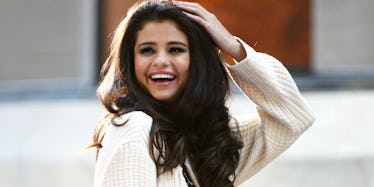 Selena Gomez Posts First Instagram Of 2017 And Fans Think It Means New Music
REX/ Shutterstock
Selena Gomez is back on Instagram and 2017 is looking better than ever!
The 24-year-old pop star took a long break from social media while she addressed her mental health issues in rehab over the summer, but her new post is making us hopeful that new music will be released soon.
In the picture the "Hands to Myself" singer posted late Saturday afternoon, her hands are shown holding a microphone and she appears to be on stage.
The caption says, "Vente pa' ca."
What does that mean, Selena?! We need to know more!
Apparently, the caption --which is written in Spanish -- could mean multiple things.
If you translate the term to English, it means, "Come over here."
If you're music savvy and up-t0-date on your Latin-pop, you'd know "Vente pa' ca" is a popular Ricky Martin song, which he recently released an English version of.
Last month, it was announced Selena would be partnering with Mexican singer Paulina Rubio to create music in 2017, which could make sense that her caption was written in Spanish.
According to Rubio, the music they are collaborating on will make people want to dance.
Regardless of what her elusive caption really means, her fans are pretty stoked about her appearance on the 'gram and hope new music is coming their way.
Hopeful Selenators are commenting on the post and asking Selena to "sing in Spanish," while others are celebrating the fact she's back online and working on music again.
When a photo was posted to Instagram last month that hinted at Selena Gomez's new music, fans had the same excited reaction.
Heck, even Nick Jonas showed excitement for her upcoming tunes.
Although we still aren't sure what Selena meant with her Instagram caption, we can definitely rest assured new music is on its way.
Keep the hints coming, Selena. We're excited!