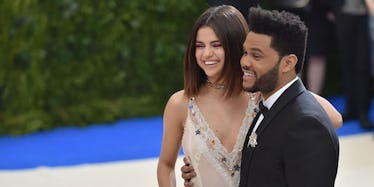 This Tiny Detail On Selena Gomez's Phone Proves She's So In Love With The Weeknd
Theo Wargo / Getty Images
If there's any evidence that a relationship is getting serious, look no further than a girl's phone. Getting a glimpse at a celeb's phone background is pretty unheard of, however. In this case, Selena Gomez's phone background of The Weeknd was totally snagged on camera and fans went to work quickly to get a closer peek. If Gomez's phone background is any indication, things are going amazingly well for the couple.
An eagle-eyed fan spied Gomez's phone screen in the pic, but look closely. A little detective work might be necessary to piece this one together, but stick with me on this one.
Now's a good time to recall one of Gomez's recent Instagram posts: a picture of date night with her man, The Weeknd. In the snap she posted, the two are at dinner at Carbone in NYC, with The Weeknd draping an arm on the booth behind her while Gomez leans in, chin in her hand, to pose for the photo. I can only imagine that just seconds earlier, she was cuddled up in that booth with The Weeknd.
While the pair has been dating since early 2017 and made things Instagram official in the spring, they definitely have been spending more time together. Their Instagram accounts have only shown a bit of each other, so maybe they're keeping some of their relationship private, but this latest dinner date pic had fans pretty excited.
But back to Gomez's phone background. Check out the singer/actress out and about in NYC, looking super casual, clutching her phone. At first glance, there's not much to see, but her phone's screen is turned out and, though most of her hand is obstructing the pic, you can get the tiniest hint of her phone background.
Zooming in a bit, well, it's 5:48, but behind that, it looks like a blurry bit of yellow in the left corner and possibly someone's forehead and eyebrows.
So, super sleuths pieced together Gomez's date night pic, which includes yellow flowers in the background and The Weeknd positioned just below those flowers.
Case closed, y'all. Gomez made her date night pic with her BF her phone background and I'm already hearing wedding bells. Too soon?