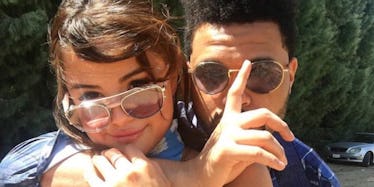 Selena Gomez Posted A Pic Of Her Date Night With The Weeknd & It's So, So Cute
Instagram
Selena Gomez is back at it again with the adorable Instagram photos of her and The Weeknd. This time, she posted a pic of them at what appears to be a dinner with friends, and Gomez honestly looks comfy as hell in a big T-shirt and her hair pulled back. The Gomez/Weeknd relationship has been a long road ever since they got together, and we sometimes go weeks at a time without knowing if they're still together. Since they don't talk about each other in interviews very often and don't post on social media too much about each other, some fans wonder during those slow weeks, are Selena Gomez and The Weeknd still together? It looks like the answer is definitely yes.
Gomez and The Weeknd started dating in Jan. 2017, but didn't make their relationship Instagram official until April 2017 when they attended Coachella together. Gomez went to a bunch of stops on The Weeknd's Starboy: Legend of the Fall Tour that ended in July, and it looks like they've just been hanging out a lot ever since and enjoying their time together.
In her new Instagram pic, Gomez and The Weeknd are sitting in a booth at a restaurant called Carbone in NYC, where Gomez is preparing to start filming for her role in Woody Allen's new movie.
Gomez and The Weeknd were also seen in a pet store in NYC this Labor Day Weekend playing with some adorable puppies, and according to Us Weekly, they're thinking of getting one together.
A source told Us Weekly their relationship is going strong. They told the outlet, "They're rock solid and very happy together," adding, "Abel came to support Selena this week in her transition to NYC." Awww, look at these two being all in love and supportive and what not. If they do get a puppy together, Waverly seems like a ~magical~ name. GET IT? OK, bye. I'll see myself out.