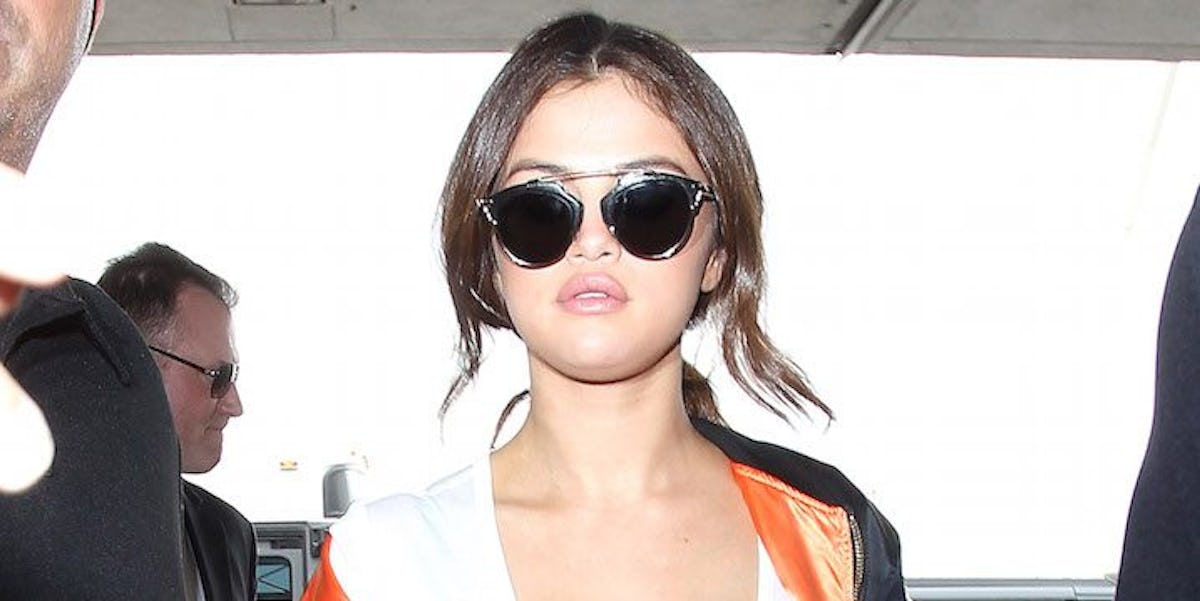 Selena Gomez Is Starting A New Clothing Trend And We Have A Few Questions
REX/Shutterstock
America has a new president and Selena Gomez has a new look, so the river of life ebbs and flows along in quiet chaos.
Everything is futile.
Check out this dino sweater!
Selena Gomez strolled around Los Angeles in a blue Coach T-Rex sweater, a white turtleneck and high waisted jeans, channeling a very me-in-fourth-grade-on-a-field-trip-to-the-museum vibe.
The sweater alone is Cretaceous AF and looks good on celebs and beautiful normals, like my friend Lauren.
Wow. Truly glamorous. But I'm not here to sell you a sweater. I'm here to dish hot, sloppy goss about Selena's new relationship with The Weeknd and his run-in with recent ex, Bella Hadid.
Bella and The Weeknd, aka Abel Tesfaye, attended a memorial concert for late A$AP Worldwide co-founder A$AP Yams at Madison Square Garden on Wednesday night, ET reports.
Though The Weeknd was there to perform and Bella was there to pout and sway alongside Kendall Jenner, it was the first time the exes found themselves running into one another since those pics of the singer and Selena dumpster smoochin' surfaced on January 11.
After the photos made their way back to Bella, the Victoria's Secret model unfollowed Selena on Instagram (oh SHIT) and, a source told Us Weekly, expressed concern the former Disney star is "using" The Weeknd (oh DOUBLE SHIT).
Another source told the site Selena "doesn't care" what anyone thinks about her new relationship, because despite sharing friends like Taylor Swift with Bella, she doesn't really roll with the ~*sQUaD*~.
Taylor isn't taking sides either, choosing to support both and neither of her lady pals in their efforts to stay aggressively workin' for the Weeknd ('s love and attention and sexy, sexy songwriting).
Sorry, folks. In an alternate universe, Donald Trump lost the election and Selena and Bella maintained their friendship. That's probably a beautiful world, with free Chipotle and pants that zip their own flies.
*LOUDEST SIGH I HAVE EVER CONJURED IN MY SHORT LIFETIME*
Dare 2 dream, I guess.
Citations: Selena Gomez Steps Out in Cute Dinosaur Sweater After The Weeknd and Bella Hadid Have Concert Run-In (Entertainment Tonight)