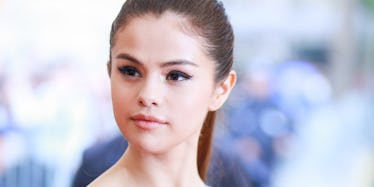 Selena Gomez Continues Her Comeback With A Gorgeous New Haircut
REX/Shutterstock
Selena Gomez just got a new boyfriend AND a new haircut, so you could say she's having a great week.
The 24-year-old singer made out with The Weeknd a few days ago and just debuted a new 'do on Insta.
Which shall we start with first?
Aight, let's talk about dat hair. We all know Selena has some of the most luscious locks in Hollywood.
Now she's changing it up. On Thursday, Selena Gomez's glam squad added a selfie of the singer on social media.
Her makeup artist Hung Vanngo, nail artist Tom Bachik and stylist Christian Classen all posted the same pic with a hashtag #SecretProject.
OoOoOo, juicy! Something big is planned, you guys. Maybe... a... new... music... video?!
In the picture below, you can see Selena Gomez's gorgeous new look. She got a fresh cut that ends right above the shoulders. DAMN, GIRL!
Yup, I'm 100 percent gonna print this out and take it to the hair salon with me. Thanks for the inspiration, Selena!
OK, NOW LET'S TALK ABOUT HER MAN.
The "Hands To Myself" singer was having a pretty hard time keeping her hands to herself when she went out to dinner with The Weeknd.
The two were spotted making out next to a dumpster outside Giorgio Baldi in Santa Monica.
THE PICTURES DON'T LIE, PEOPLE. Selena Gomez and The Weeknd are an actual thing.
A source recently told E! News the details about Abelena's new relationship. The insider said,
At first, Selena and Abel wanted to keep their relationship a secret… But they've decided they really don't care if everyone knows about them.
The source added,
Selena was focusing on getting herself back together and Abel was just getting out of a relationship, plus putting out his new album. Abel and Bella also were on and off towards the end of their relationship, so getting into something brand new was not what Abel was looking for.
Wow, I wonder how Bella Hadid feels! 
Selena Gomez, you're already killing it in 2017. New year, new you!
Citations: Selena Gomez New Hair (People)