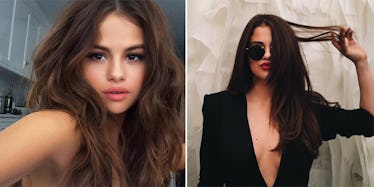 Selena Gomez Dominated Kendall Jenner With 8 Of This Year's Top Instagrams
Instagram
There was an era, now buried deep in the annals of American history (April) when Kendall Jenner's artsy hair Instagram post reigned supreme as the app's most-liked photo.
Kendall was dethroned in May 2016 by Justin Bieber's perpetual heart boner for Selena Gomez and, by December 2016, has been full-on trounced by Selena herself.
The digital world has spoken: Cha'girl SG is the high priestess of Insta, with eight of her photos ranking among the site's top 10 most-liked posts of the calendar year.
In fact, the only other celeb to crack the top 10 was soccer hottie Cristiano Ronaldo.
Selena accomplished social media domination during the same year she took a break from the spotlight to seek treatment for anxiety and depression. She recently told Thrive Global,
I recently took 90 days off. During that time I did not have my cellphone. It was the most refreshing, calming, rejuvenating feeling. Now I rarely pick up my phone, and only limited people have access to me.
The thing is, Selenators never take a day off, keeping their queen's Insta game unbeatable.
Overall? Great choices this year, people. Really solid stuff.
High Fructose Corn SyrYUP: 5.9 Million Likes
Meet and GREAT: 4.2 Million Likes
Summertime SadnYES: 4 Million Likes
Seventy-fMORE: 3.9 Million Likes
Rose-Colored YAAAASses: 3.9 Million Likes
FlashDAMNce: 3.6 Million Likes
Vogue AWstralYEAH: 3.3 Million Likes
Revival GURRRLd Tour: 3.2 Million Likes
I hate these titles, too. Get off my back.
Despite her success online and IRL, Selena admitted to the audience at last month's American Music Awards she's done seeking validation from followers.
Congrats, @selenagomez! Here she is with a sweet message when accepting the #AMAs for Favorite Female Artist- Pop/Rock! pic.twitter.com/JCeE9IijDU — AMAs (@AMAs) November 21, 2016
During her acceptance speech for Favorite Female Artist Pop/Rock, she told viewers,
Most of you know a lot of my life whether I liked it or not. And I had to stop, because I had everything and I was absolutely broken inside... I don't wanna see your bodies on Instagram. I wanna see what's *in here*. I'm not trying to get validation, nor do I need it anymore... And I have to say thank you so much to my fans, because you guys are so damn loyal and I don't know what I did to deserve you.
Amen, hallelujah.
Citations: Cosmopolitan