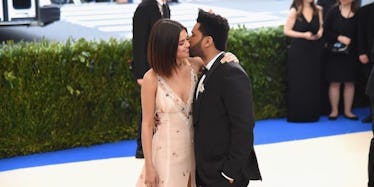 Selena Gomez Calls The Weeknd "Really Cute" In New Video And It Will Make You Melt
Nicholas Hunt
Selena just proved how freakin' cute she and The Weeknd are by low-key gushing over her boyfriend during a recent Q&A session.
I hope she wasn't ~lying~ about this one. GET IT? 'CAUSE SHE'S A BAD LIAR? I'm sorry.
In the video, she's answering questions from fans. One fan asked, "How was your recent trip to our great city of Toronto?" To which Gomez responded first by expressing her love for Canadians ("Love my Canadians"), then saying,
It was amazing. One of my good friends, Petra Collins, is from Toronto, I went to see her exhibit. It was absolutely stunning and beautiful. She is so cool and one of my favorite people on the face of the planet.
BUT WAIT, there's more. She gushed,
And my boyfriend's from there, and he's really cute.
SA-WOONNNNN.
Back in May, in an interview with Miami's Power 96.5 FM, Gomez was talking about her relationship, but wouldn't flat-out name drop The Weeknd.
She said,
I'm the kind of girl that loves tremendously big. I just have always been that girl. I will give my heart and my soul to the person that I love. It's just how I operate. With that comes a lot, you know?
Yeah, I know, girl. She added,
I was planning a trip and I was saying, like, 'I'm going to leave,' but I was trying to get somebody really cute to tell me to stay.
"Cute" seems to be her favorite qualifier for her new man.
Gomez and The Weeknd have been together for the majority of 2017 now, and it seems like they're still very much in the honeymoon phase. They officially confirmed their relationship back in April with an Instagram selfie of them at Coachella.
STAY THERE AS LONG AS YOU CAN, YOU PRECIOUS, PRECIOUS BEANS.