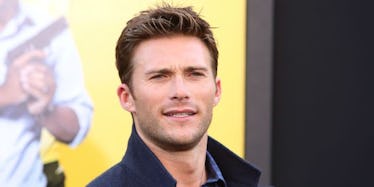 13 Photos Of Scott Eastwood's Droolworthy Body That Are Better Than His Acting
REX/Shutterstock
Scott Eastwood just has one of those faces.
You know, the one that you'd love to sit on, but you'd also just love to scratch up a little because of how impeccable it is.
The California native burst into the Hollywood scene back in the early 2000s, doing whatever it took to establish himself outside of his obvious connection to acclaimed actor/director, Clint Eastwood (his dear, ol' dad).
And while the actor/model has managed to land roles in big-name movies, like "The Longest Ride," "Suicide Squad" and "The Fate of the Furious," it's not usually his awe-inspiring acting skills that bring me to the theater.
No, instead, it's his face. His beautiful, beautiful face. And his abs. Andddddd maybe his bulge.
I'm not knocking Eastwood's efforts as an actor. The dude has clearly made a name for himself in the business, raking in the big bucks with each new project, while I sit here finagling how to get a Seamless discount code to make my lunch cheaper.
I'm just saying, I don't see him winning an Oscar anytime soon.
A wet T-shirt contest, on the other hand, is his for the taking without a doubt.
So, in honor of that droolworthy bod and the fact that he turns 31 today, here are 13 times Scott Eastwood's body just happened to be better than his acting:
Sure, that water could be donated to third-world countries, but I'll let it slide just this once.
My mast is raised.
The award for best side-profile pectorals goes to...
His hand signs look like modified shockers, and I'm kind of OK with it.
Can someone find me a map, so I know where his V goes?
This photo should be framed in the Louvre. I mean, my God.
If he's going to drive shirtless, he might as well remove the trunks, too.
No one should look this good with a large pig in the frame.
I think I'm going to need some confirmation that his rope-pulling face and his "O" face aren't the same.
That dog has no idea how lucky it is.
I'm about as wet as he is right now.
Can I find a recording of all that grunting on Spotify?
His nipples are hard, his bathing suit is tight and his hair looks like a damn cockatoo. I think I'm in love.
Keep doing what you're doing, Scott.
Trust me, it's working.
Your acting may not be award-winning, but dat ass sure is.