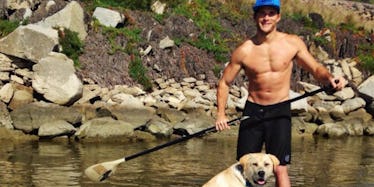 Scott Eastwood Stripped Down To Do An Insane Workout In His Backyard
Instagram
OK, friends. Get your spray bottles ready because we're about to get real thirsty up in here.
While Scott Eastwood is currently beefing up to film "Pacific Rim: Maelstrom" in Australia next month, we get to enjoy a little fanservice thanks to his Instagram.
The "Suicide Squad" stud has been posting a lot of videos of his workouts on the 'gram lately.
Not sure if we're more excited about the video below or his new movie...
Now, I've worked at a gym (*cough* as a receptionist *cough*), so I can tell you without a doubt (*cough* some doubt *cough*) that this excercise works on a number of areas.
For instance, let's focus in on those abs. Go ahead, put your creepy peepers right on them.
By balancing on the BOSU-Ball (see, I know what I'm talking about. It's that half sphere object he's standing on), he is engaging his core, which is ideal when you want to get washboard abs.
On top of that, he's using a kettlebell (that weight-thingy he's lifting) to work his triceps -- one of the trickiest places to tone.
It must be working because look at this merman.
Honestly, this whole workout looks truly terrible -- but we guess it's for a good cause.
Eastwood captioned one of his videos with,
You don't always need a gym. Sometimes all you need is a backyard and some motivation.
This explains why he and two of his bros are just working out in someone's manicured backyard.
You've probably seen Clint Eastwood's son in "The Longest Ride," "Fast 8" or "Live By Night."
Now, he's set to appear in the sequel of "Pacific Rim," where he'll star alongside with "Star Wars" actor John Boyega. Boyega will play the son of Idris Elba's character from the first movie.
Filming for "Pacific Rim: Maelstrom" begins in mid-November.
Citations: 'All you need is a backyard': Scott Eastwood shows off his muscles as he works out barefoot and shirtless (Daily Mail)