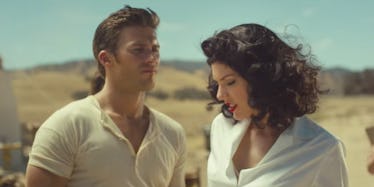 Scott Eastwood Says His Agents Didn't Want Him In Taylor Swift's Music Video
YouTube
Remember Taylor Swift's steamy music video for "Wildest Dreams?"
Well, it turns out Swift's main man in the video, played by Scott Eastwood, was advised by his agents NOT to take the part.
The 30-year-old actor and model sat down with People Magazine for a quick interview regarding his cameo in Taylor Swift's "Wildest Dreams" music video that came out back in 2014.
The song, originally released on her fifth studio album 1989, racked up over an impressive 479 million plays on YouTube.
So, why did Scott Eastwood's agents advise him not to star in the music video as Taylor Swift's man?
Eastwood revealed,
None of my agents even wanted me to do it actually. They said, 'well, we don't want you to do that. Why would you go be Taylor Swift's boy-toy?' And I said, 'well, why the hell not?!'
It seems to me like Scott Eastwood's agents were just jealous he got to play the part in the first place. I mean, this may be the only logical excuse to me given their initial response.
Hey, I can't say I blame them. Have you seen the video for yourself?
Smart move, Scott! This will look GREAT on your resume.
Now you'll just have to live with the image of Taylor Swift "standing in a nice dress, staring at the sunset" engraved in your memory... But I'm sure that's a small price to co-star alongside Taylor Swift.
Scott Eastwood's latest project involved working with Will Smith, Margot Robbie and other top-tier Hollywood actors in "Suicide Squad," where Eastwood stars as a "top secret" solider.
Citations: Scott Eastwood on Why His Agents Told Him Not to Star in Taylor Swift's 'Wildest Dreams' Video (People)