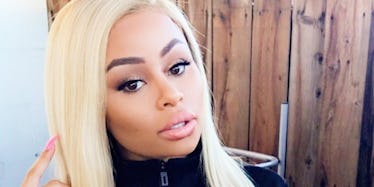 Scott Disick Was The Only Kardashian To Attend Rob And Chyna's Baby Shower
Last week's phone number drama is all in the past for Blac Chyna and fiancé Rob Kardashian, who celebrated the upcoming arrival of their first child together at Chyna's baby shower on Sunday.
Oh — don't worry — Scott Disick was in attendance because nothing says "baby shower" like that one in-law who has parenting experience but also accused his baby mama of "suckering" him into having kids.
Chyna was H to T glam in an Angel Brinks dress, complete with a dangly-ass choker that made her look like a beautiful character from a "Frozen" sequel come to life.
The 28-year-old did a quick sashay down the driveway.
Honestly, what's the point of wearing a nude glitter gown if no one's going to see the light dance off it and onto a bunch of crazy-expensive cars?
Then, she hopped on a party bus with friends and headed to her shower sans most of the Kardashian fam.
Though Rob's sister Kim Kardashian was stuck in Paris for Fashion Week and couldn't make it to the celebration, she reached out to Chyna and wished her well.
Uh — wait — OK, yeah, there it is. She reached out to Chyna and wished her well.
In defense of Kimmy's Snapchat woes, her most recent trip to Paris was nothing short of a waking nightmare. Last week, Ukrainian "prankster" Vitalii Sediuk attempted to kiss the 35-year-old's famous butt before Kim's bodyguard intervened.
Now, fans and celebs are reaching out to comfort the reality star following a robbery that left her bound in her hotel room.
Chyna's first child, son King Cairo, whom she shares with ex-fiancé Tyga, was not too busy with PFW appearances to attend his mother's big day.
He's 3. His schedule is wide open.
As promised, Scott Disick came through, likely equipped with plenty of solid fatherly advice for Rob.
Yup. SO much advice.
Oh, dads.
Citations: Blac Chyna Snapchats Her Baby Shower, Channels Kim Kardashian's Wardrobe at Slutwalk (Entertainment Tonight)