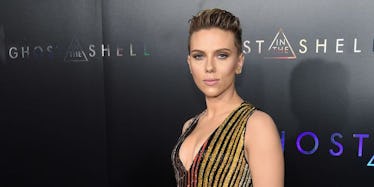 Is Scarlett Johansson Single? Here's What We Know About Her Dating Life
Jamie McCarthy/Getty Images
Scarlett Johansson is a badass. She's been killing it lately; speaking out about politics and being ruthless in her criticism of gender inequality, all while starring in movies like Captain America: Civil War and maintaining her hollywood glam gorgeousness.
Johansson recently split from her husband of 2 years, Romain Dauriac, and she wants the media to get over it. Fair enough.
So, who's she dating now?
It's unclear, but ever since she gave a powerful speech defending Planned Parenthood sans wedding ring at the Women's March in Washington, DC, she's cooler than ever. Her next beau, whoever that may be, is a lucky guy.
Rumor has it, Saturday Night Live writer and co-anchor of Weekend Update Colin Jost might just be that guy. And he's pretty cute.
Elite Daily reached out to Johansson's rep for comment, but did not hear back by the time of publication.
Page Six reported the two were making out at the SNL afterparty on March 11, when Johansson hosted the show for her fifth time -- and, honestly, good for them.
I can't say I would've guessed these two would get together, but they're both funny, smart, and young -- so, why not?
I'm just rooting for Johansson to find happiness, and if it's with Jost, I'm all for it.
And if it doesn't work out with ScarJo, Jost always has his SNL co-star Leslie Jones waiting for him.