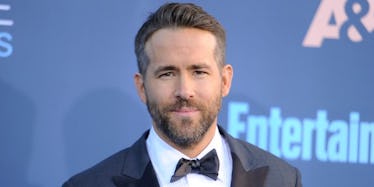 Ryan Reynolds Refuses To Roast Tom Brady, Says He'll Be Cheering For Patriots
REX/ Shutterstock
While we were guzzling down drinks at happy hour Friday night, Ryan Reynolds was accepting the Hasty Pudding Theatricals 2017 Man of the Year award at Harvard University. NBD.
During the acceptance ceremony, which took place February 3 on campus at Farkas Hall, the cast of Hasty Pudding Theatricals — a theater group at Harvard known for its student-written theater — honored Reynold's dynamic acting abilities and roasted his underwhelming films.
However, the celebration got a little awkward when the cast told Reynolds he had to roast Tom Brady, quarterback of the New England Patriots.
The actor, seemingly uneasy about the topic, politely declined to do so.
Apparently, Reynolds responded to the request, and said,
Oh, God, that's a terrible thing to do. You know we're in Boston, right? Tom, I'm afraid your voting skills are as bad as...
According to People, the actor stopped himself before finishing his statement against the football player.
Good save, Ry.
Also, it's worth noting that Reynolds gave a lap dance to a Hasty Pudding cast member during the ceremony.
The man was casted as "Blake Deadly" in the ceremony, according to DailyMail.com. LOL.
It's been reported Reynolds defended his choice not to roast Brady during a press conference after the ceremony.
He allegedly said that he'll be rooting for the Patriots in the Super Bowl, regardless of Tom Brady's infamous friendship with Donald Trump.
Reynolds proclaimed his support for the the football player, and said,
I'll be rooting for the Patriots and for Tom Brady. I'm very excited, and I'm hoping for a humiliating defeat against the other team. Green Bay is my main team but when they're out, I just enjoy the Patriots.
Apparently, the rest of the world isn't as nice as Ryan.
After Brady's odd relationship with Donald Trump was publicized, he caught a lot of hatred after dismissing Donald Trump's "locker room talk" quote.
You know... the "grab 'em by the pussy" one that instantaneously infuriated the nation, to say the least.
During a press conference, Brady was asked what he would do if his kids were exposed to Donald Trump's "locker room talk." He refused to respond, and walked away with a fake smile.
Based off that behavior alone, our boy Ryan Reynolds could've roasted the shit out of him. But he's better than that, and I respect his self-control. There's a time and place for everything, after all.
And also, he's not Meryl Streep. And she's the queen of bashing people while accepting an award.