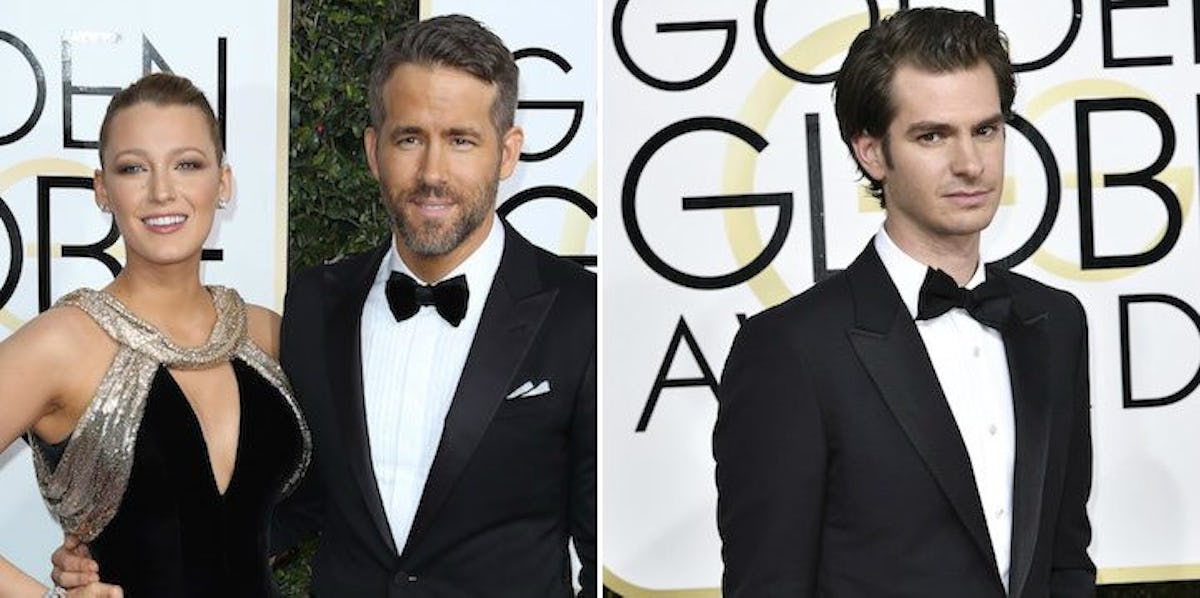 Ryan Reynolds Picks Blake Lively Over Andrew Garfield Despite 'Generous' Kiss
REX/Shutterstock
Mankind has been waiting all its existence for a single answer.
Everything humanity has innovated — government, sweet bread, knee pads for gardening, the iPhone, salad in bags, NASA, the practice of naming your boat like it's an improv team, gel manicures, medicine, HBO — was merely a series of time-killing activities until one question was truly, wholly answered.
Who's a better kisser: Blake Lively or Andrew Garfield?
We've seen both of them kiss in movies and on television, but so few of us have kissed them personally.
Only one man can answer this question. The chosen one, Ryan Reynolds, has pressed his hot mouth against both Andy and Bla (nicknames used only by the familiar).
Ryan unceremoniously fulfilled the prophecy when he admitted he considers his wife the better kisser during his acceptance speech for Harvard University's annual Hasty Pudding Theatricals Man of the Year Award on February 3.
He said,
I'm going to go with my wife on that one, for a number of reasons. Make no mistake, Andrew Garfield is a wonderful kisser. Very generous — a real darting tongue.
Ryan kisses Blake all the damn time as her husband and the father of her two daughters. Andrew, on the other hand, only got one shot.
The actors smooched furiously during this year's Golden Globes after Ryan lost the award for Best Performance by an Actor in a Motion Picture Musical or Comedy to "La La Land" star — and fellow Canadian smoke show — Ryan Gosling.
Of the kiss, Andrew told Stephen Colbert during an appearance on "The Late Show,"
I just wanted Ryan to know that I loved him no matter whether he won or lost.
Wow. He just wanted Ryan to know he loved him... NO. MATTER. WHAT.
It looks like Andrew has no problem expressing his gratitude for their PDA. Take some notes, Ryan.
Citations: Ryan Reynolds Says Blake Lively Is a Better Kisser Than Andrew Garfield: He Has 'a Real Darting Tongue' (ET)