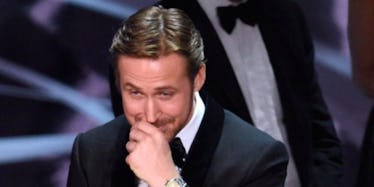 Ryan Gosling's Reaction To That Huge Oscars Fail Is Both Adorable And Sad
ABC
Sunday night's Best Picture debacle at the 2017 Oscars had everyone reeling, but no one had a better reaction than Ryan Gosling.
Because, look, that whole thing was a hot mess. The cast of "La La Land" was told they won Best Picture, only to find out they hadn't, actually, and were forced to retreat from the stage in embarrassing confusion.
And Ryan Gosling's reaction to realizing his film lost was just to straight-up laugh at the absurdity of it all.
I mean, really, what else can you do at that point?
Here's quick recap of what happened, in case you missed it.
First, Warren Beatty kept us in suspense on which film won Best Picture. Then, Faye Dunaway announced the winner was "La La Land."
Then, the cast and crew of "La La Land" — including Ryan Gosling, Emma Stone, John Legend and Damien Chazelle — took the stage to accept their award, you know, as you do.
But then, there was major confusion as security took the stage and "La La Land" producer Jordan Horowitz announced to the crowd,
This is not a joke. 'Moonlight' has won best picture.
He then held up the Best Picture card in a now infamous Oscar moment, revealing the real winner, was, in fact, Barry Jenkins' film "Moonlight."
(It was later revealed that Warren Beatty was handed the envelope for Best Actress rather than Best Picture, so it really wasn't his fault.)
Obviously, celebrities on and off stage were pretty taken aback by this incredible mix-up.
Emma Stone was seen saying, "Oh my god," when she realized what had happened.
The entire audience sat there stunned as they watch it all go down.
Special shout-outs to Matt Damon's slack-jawed awe, The Rock's furrowed brow and Meryl Streep's total disbelief.
Even after the "Moonlight" cast and crew accepted their award, Meryl still couldn't believe it.
And "Moonlight" star Trevante Rhodes almost died.
Shirley MacLaine looked like she had literally just seen a ghost.
While Taraji P. Henson and Octavia Spencer looked blessed to be witnessing this miracle.
I'll say this for the 2017 Oscars: It certainly wasn't boring!
Citations: Ryan Gosling had the best reaction to that La La Land and Moonlight mix-up at the Oscars (Cosmopolitan)