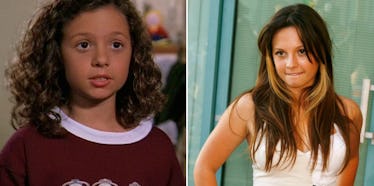 Ruthie Camden From '7th Heaven' Is All Grown Up And Insanely Hot
Paramount Domestic Television/REUTERS
I don't know about you, but I used to watch "7th Heaven" religiously as a kid.
Every week, my sister and I would plop down on the couch and get our wholesome family lesson from the Camdens. Life was great.
Well, it turns out the show was a bit of a sham. If you're unaware, Stephen Collins, who played Reverend Eric Camden on "7th Heaven," reportedly confessed to sexually abusing teenage girls, which, you know, kind of ruined the show for a lot of people.
Apparently, there's been talk recently of doing a "7th Heaven" reboot, but according to Catherine Hicks, who played Annie Camden on the show," it would have to be without Stephen Collins.
Speaking on the possibility of a "7th Heaven" reboot, Hicks told TMZ,
You know, I don't know. I mean we'd have to open with Stephen's coffin.
Bang! Tell us how you really feel, Annie Camden. She's absolutely right, of course.
Hicks continued,
No, but I mean… You know, it's all up to networks and those type of things.
Well, all this talk of a "7th Heaven" reboot has me feeling pretty nostalgic, which prompted me to think about the other characters from The WB's longest-running show.
Like, remember little Ruthie Camden?
Well, little Ruthie Camden ain't so little anymore. Mackenzie Rosman, who played Ruthie Camden all those years ago, is 26 now, and she's insanely hot!
Ruthie, is that you?! Holy hell!
Here's a closer look at the incredibly sexy Ruthie Cam --  I mean, Mackenzie Rosman.
Mackenzie Rosman made it big after playing the adorable little Ruthie Camden on the WB's "7th Heaven."
Now, Rosman is all grown up, and the 26-year-old is incredibly sexy.
A few years back, Ruthie, er, Rosman did a photoshoot with Maxim Magazine...
...and, as you can see, the word sexy doesn't even do this shoot justice.
Like, what man wouldn't want to wake up and see Mackenzie Rosman's smiling face staring back at them?
Yeah, no dude I know, or even want to know for that matter.
Rosman was born in Charleston, South Carolina, but she currently resides in West Hollywood, California.
Apparently, the 26-year-old is a competitive equestrian rider, and she owns several horses.
Damn, this woman is hot AF!
Believe it or not, Rosman landed the role of Ruthie Camden by greeting everyone in the room with a handshake during her audition.
Before "7th Heaven," she started doing television commercials at the age of four.
Mackenzie Rosman's most recent film role was in a television film entitled "Ghost Shark."
Who would've though little Ruthie Camden would grow up to be so insanely sexy?
Honestly, she's the real piece of heaven.
Salute to one of the hottest women in the business, Mackenzie Rosman.
Citations: mackrosman (Instagram), @MackRosmanNet (Twitter)