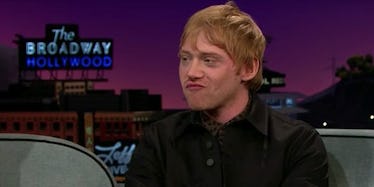 Rupert Grint Had The Most Ron Weasley Reaction To Accidentally Catching On Fire
CBS
"Harry Potter" star Rupert Grint apparently caught on fire and didn't even notice, which is the most Weasley-esque story I've ever heard.
Like, can't you just picture Mrs. Weasley screaming at Fred and George because they've secretly lit Ron's pants on fire?
Can't you hear Hermione sighing, "Honestly, Ronald," while she dutifully puts out the fire on her husband's red hair when it's his night to cook?
That's pretty similar to what happened to Rupert, according to the story he told James Corden on Monday night's episode of "The Late Late Show."
James Corden made the observation Rupert is a laid back, chill kind of guy, and Rupert agreed — so chill, in fact, he wasn't even bothered by a bit of fire that casually engulfed the jacket he was wearing.
Rupert said,
Not a lot phases me. I actually caught fire once, and I didn't even know it was happening. I was at the Edinburgh Festival. It was a screening for a film, and I was talking to someone, and I felt quite hot. And it was John Hurt — the late, great John Hurt — he came up to me and said, 'Do you know you're on fire, my boy?' And yeah, I was on fire! My jacket was on fire.
At this point Patrick Stewart, also a guest on Monday's show, had to interject and ask how in the world he caught fire in the first place. (Thank you, Picard.)
Rupert replied,
I think I was standing very close to a candle. I had no idea.
So yes, the real life Ron Weasley is very much like the fictional Ron Weasley indeed.
Sadly, this delightful story is not available in sharable clip form, but you can watch the whole episode for a limited time on the CBS website.
Rupert also revealed he often gets mistaken by fans for another famous redhead, Ed Sheeran — even by famous British '70s singer Leo Sayer.
Luckily, this story is available in clip form.
Rupert said,
Leo Sayer, he came up to me and he said he loved my music. Of course, thinking I was Ed. I just, yeah, I play along.
Meanwhile, Emma Watson was apparently learning all the lines of everyone in the "Harry Potter" films, not just her own, which is the most Hermione thing I've ever heard.
What kind of perfect casting wizardry is this?
Citations: Rupert Grint Talks Frequently Getting Mistaken for Ed Sheeran, Reveals He Once Caught Fire and Didn't Notice (Entertainment Tonight)