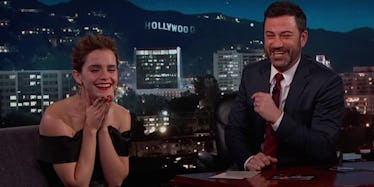 Emma Watson Adorably Cringes While Watching Old 'Harry Potter' Outtakes
ABC
Accio blooper reel!
Emma Watson's career is absolutely insane when you consider the fact that it all happened because she booked the role of Hermione Granger on her first audition ever. HER FIRST ONE!
Can you imagine having your life figured out like that by age 9? Emma Watson had her entire future more in order before she was 10 than any of us probably ever will.
With "Beauty and The Beast" hitting theaters later this month, Emma made her way to the "Jimmy Kimmel Live" set to plug the movie.
She ended up taking a little trip down memory lane to her first "Harry Potter" film.
It turns out, Emma struggled with a super adorable quirk during her early years as an actress. The clip Jimmy plays shows Emma visibly mouthing along with Rupert Grint's dialogue during the trio's audition for "Harry Potter."
Apparently this was a pretty big problem for Emma, who claims to have ruined a bunch of takes because she would accidentally read the dialogue along with her co-stars.
A clearly shaken Emma Watson told Jimmy,
You laugh, this is actually quite traumatic for me because I created issues because of this. I would ruin tapes. Chris (Columbus) would be like 'Cut, Emma you're doing it again. You're mouthing Dan's lines' and I would be like 'OOH! SOO SORRY! I FEEL SOO BAD!' I couldn't help myself. I was such a loser. I really loved those books. I really wanted to do my job well and I kind of overdid it.
Emma apparently loves the books -- more accurately, books in general --  so much that she transforms herself into a "Book Ninja" during her free time.
She explained the concept of Book Ninja-ing to Jimmy during last night's show.
So pick up a book and join Emma in her fight to make the world a more literate place by littering the subway system!
Citations: Emma Watson Gets Flustered Re-Watching a Harry Potter Outtake: "I Was Such a Loser" (E!)