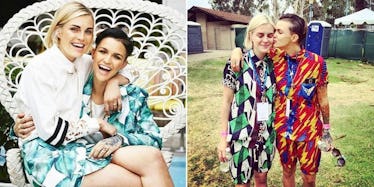 Ruby Rose And Her Fiancée Should Definitely Be Your Relationship Goals (Photos)
Yesterday, we told you about the all out Ruby Rose epidemic spreading across the Internet.
Since making her debut on "Orange Is The New Black," both men and women have been falling head over heels for the heavenly actress.
But I have some bad news for everyone who's crazy in love with heart-stealing convict.
Ruby Rose is off the market, so you might want to find a new #WCW to lust after.
It turns out Ruby is actually engaged to British fashion designer Phoebe Dahl, and to be honest, these two are so damn adorable together, you can't even be mad.
It's not hard to see Ruby and Phoebe were pretty much made for one another, and these two beautiful lovebirds might actually be the most perfect couple on the face of the planet.
These two are seriously the definition of #RelationshipGoals.
Take a look at the pictures below to see this gorgeous couple.
If you happen to be in love with the smoking-hot Ruby Rose...
You might want to find new eye candy to crush on...
Because this "OITNB" inmate is already locked down...
And plans on serving a lifelong love sentence to her fiancée, the beautiful British fashion designer, Phoebe Dahl.
This adorable pair is perfect in every way imaginable.
Aside from being one ridiculously attractive couple...
Ruby and Phoebe are absolutely batsh*t crazy about each other.
It's not hard to see these soulmates are partners in crime and in love...
how to ruin ur day: ruby rose is engaged and it's not to u pic.twitter.com/dAvGQDy4pt — t. (@inkedcabellos) June 17, 2015
And they're pretty much the #RelationshipGoals we all strive for in life.
Phoebe popped the question to Ruby last year with a beautiful ring crafted with "ethical unaffected diamonds."
During an Interview with KIIS FM, Ruby revealed, "She broke into my house with flowers and a card at like five in the morning, she gets down on one knee and says 'Ruby, will you marry me' … I was so convinced it was a prank. This was a prank that went horribly right…"
Ruby says, "This is my soulmate, this is the woman of my life, we're so in love."
Not long after, Ruby reciprocated the grand gesture by giving Phoebe a pretty impressive rock of her own to show off their engagement.
If that's not enough to make your heart melt, they have necklaces with each other's names on them...
And Ruby also wears a necklace that contains a vile of her fiancée's blood.
There's no doubt in my mind this couple is going to live happily ever after.