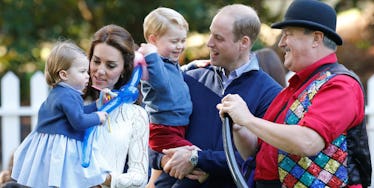 The Royal Family's Adorable Holiday Card Pic Included A Total Stranger
REUTERS
If you've successfully photobombed the royal family's holiday card without even meaning to, you're a goddamn hero in my book.
Apparently, that's exactly what happened in William and Kate's adorable winter greeting.
A photo on the cover of their highly-awaited holiday card shows a random dude in a colorful sequin vest standing next to the family, and we're all a little confused.
Who is this guy? What the heck is he doing? Is he a weird second uncle of some sort?
Prince George and Princess Charlotte are completely fixated on the total stranger who unknowingly crashed their holiday card, and we don't really blame them.
OK, OK... I might be exaggerating a little bit.
Although this guy is a rando to us, he was obviously an entertainer of some sort trying to fixate the family with his top-notch balloon-blowing skills.
The photo was taken as a candid during the royal family's trip to Canada last fall, PEOPLE reports.
Back in late September and early October, the Duke and Duchess of Cambridge took their precious children on a Canadian vacation where they frolicked at a garden party as part of their eight-day royal tour of the country.
They must've loved the looks on George and Charlotte's surprised faces so much they decided to use it as their holiday card -- even though the balloon artist is crashing the photo.
Regardless, the family is looking adorable as ever.
But I mean, we're not surprised -- they're perfect.
A picture of the card was released on Instagram Friday by a lucky recipient and obvious friend of William and Kate. Needless to say, it has the internet swooning.
In fact, I think this year's card is so cute it surpasses the royal family's holiday card from 2015 by a landslide.
In the photo from December 2015, the royal family is cuddled on a lawn adorned in fall leaves... but it's missing something, don't you think?
Where's the balloon man? I miss him! He's part of the family now!
Maybe he'll be a staple in upcoming holiday cards from the family, but I guess we'll have to wait until the holidays come back around in order to find out.
Citations: ROYALS Prince William and Princess Kate's Holiday Card Is Finally Revealed — See the Sweet Shot (PEOPLE)