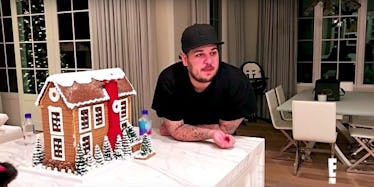 Rob Kardashian Reportedly Getting Counseling Following Blac Chyna Drama
YouTube
Rob Kardashian has everyone wondering what the heck he's going to do next. A source has told E! News that Kardashian has started counseling following the Blac Chyna incident.
The source said,
Rob is getting counseling. He wants to be the best dad possible.
According to the source, the rest of the Kardashian clan has "noticed positive changes in Rob", and the counseling is "going really well." Elite Daily reached out to Rob Kardashian's team on the report, but did not hear back by the time of publication.
Hopefully, for the sake of his family and 8-month-old daughter, Dream, this means Kardashian is trying to make amends with his ex-girlfriend, Blac Chyna, after his July 5 revenge porn posting spree.
TMZ reported that the exes were working under an "unwritten arrangement," but share custody of Dream 50-50.
According to the same report published by TMZ, Kardashian and Blac Chyna have been able to keep their relationship drama separate from parenting, and have "no problem" co-parenting.
A temporary restraining order against Kardashian was granted to Blac Chyna on July 10. Reportedly, nannies for both parties will be taking care of the custody drop-offs.
Blac Chyna has made it very clear that she is fed up with Kardashian (as if the temporary restraining order wasn't enough). She told Good Morning America that all the jewelry and cars previously given to her by Kardashian have been returned. Blac Chyna wants to make it very clear that she can't be bought.
Kardashian has remained strangely silent throughout this drama sh*t storm. He still has not issued a public apology. After Blac Chyna successfully received a temporary restraining order, Kardashian's lawyer, Robert Shapiro, said this on his client's behalf,
I, personally, on Mr. Kardashian's behalf, apologize and offered our regrets for what has taken place in the past couple of days and now we move forward to do one thing and one thing only — what's ever in the best interest of this child.
A source told E! News that Kardashian has reportedly apologized to his family:
He is very remorseful and upset with himself over what he did ... Now he is embarrassed and knows he needs to be better for Dream. There's no excuse and he is taking responsibility. He also realizes that there could be consequences and that he won't be able to see Dream. That is what's most important to him and not being able to be with her is what scares him the most. He is trying to learn from this and move forward. He just wants to be a good dad and focus on that.
Hopefully this will be the beginning of redemption for Kardashian.