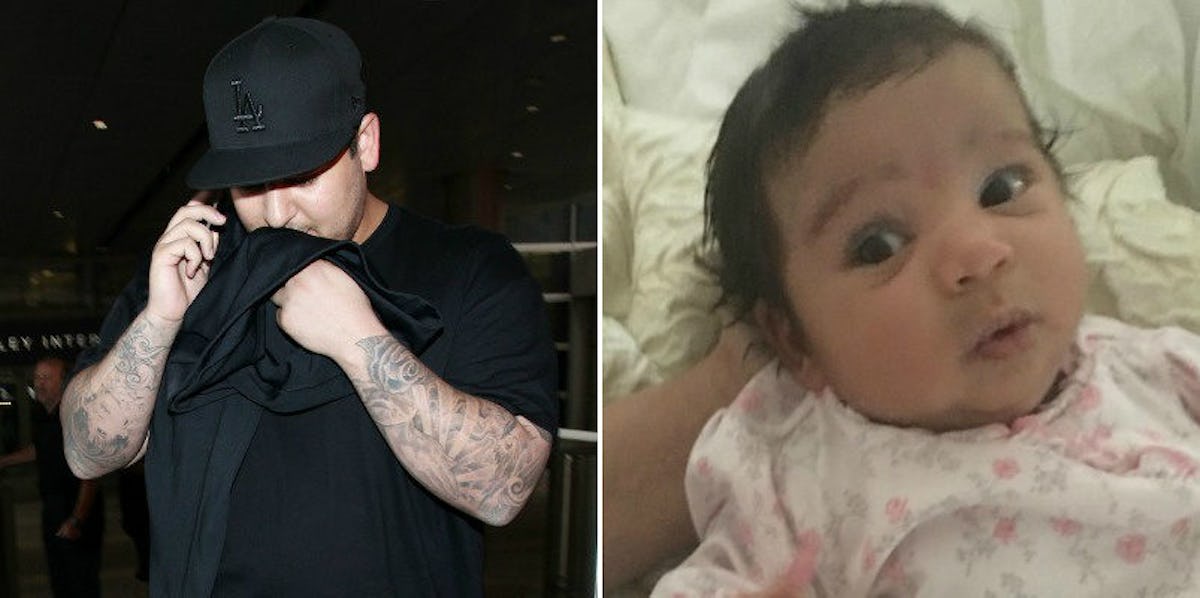 Rob Kardashian Posts Pic Of Baby Dream Amid Blac Chyna Split: 'This Is Awful'
REX/Shutterstock/Instagram
I don't know about you, but I'm still trying to make sense of what happened between Rob Kardashian and Blac Chyna.
According to reports, Blac split with Rob and took their baby Dream Kardashian with her when she left.
Days before the alleged split, Blac posted a video on her Instagram page with another man, her hairstylist Kellon Deryck.
Fans started dragging Chyna for this, and it now appears she's started a brand new Instagram account, "@_blacchynala."
According to a video Rob posted on Snapchat, he came home to find an empty nursery and his partner and baby gone.
In the video, Rob Kardashian said,
I got the Christmas tree all set up for Chyna and the baby, but they left me. So, I get home and Chyna took the baby, took the whole nursery we built, and she just left me alone and took the baby. We also built a room for King, but she took everything for King's room as well. But, yeah, I'm pretty upset and I'm pretty sad because it's about to be Christmas and I wanna be with my baby.
A distraught Rob Kardashian recently took to social media once again to show just how much he's suffering in the wake of having his world crumble.
The 29-year-old posted a a new picture of his daughter  on Instagram, and the caption is pretty heartbreaking.
To caption the above photo, Rob Kardashian wrote,
I really miss this girl... never felt so in love with someone the way I do with you Dream. Look she has her thumbs up (thumbs up emoji) never thought a woman would try to take my happiness when all I wanted was to make her Happy. Man this is awful. Closing my eyes cuz this is draining. (two broken heart emojis)
Obviously, the details of Rob and Chyna's split are still emerging, but at the moment, this whole situation appears to be extremely f*cked up.
It looks like Blac's mom Tokyo Toni has faith Rob and her daughter will get back on track, according to this Instagram post.
But I guess we'll just have to wait and see how all of this plays out.
Citations: Rob Kardashian Shares New Pic of Baby Dream as Blac Chyna Appears to Start Brand New Instagram Account (Entertainment Tonight)