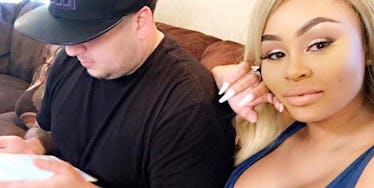 Rob Kardashian Reveals He Spent $13,000 On Food For Blac Chyna In One Month
Instagram
Right now, I currently eat about seven meals a day. One breakfast, three lunches, two dinners...and then a snack, just to keep me going.
Imagine what it'll be like when I'm pregnant one day. I'LL BE EATING FOR TWO. I'mma go ham on cheeseburgers and burritos every day, baby. Can't wait.
Blac Chyna totally feels me on this. The girl is well on her way with baby number two and seems to be living it up.
During a Facebook Live chat on Wednesday, Rob Kardashian revealed he's spent $13,000 in one month on food delivery for pregnant Chy.
LOL. $13K! THAT'S FOOD GOALS RIGHT THERE.
Seriously, I think I found my hero. I guess if I had $13,000 to spend on food, I'd use it up too. But um, my financial situation is just a little different.
If you're a big fan of food delivery (I mean, who isn't?) I'd check out the service Postmates. That's what Rob and Chyna use, so it must be tasty as hell.
So what kind of foods has Blac Chyna been eating these past few months? Well, she confessed her two biggest cravings are P.F. Chang's and Philly cheesesteaks.
THATTA GIRL. I've never been more proud.
If you love Rob and Chyna as much as I do (eh, I'm really just feeling Chyna...no offense, Rob) then check out their new reality show "Rob & Chyna" premiering on September 11.
You can watch the entire Facebook Live interview below.
Also, I suggest you follow Blac Chyna on Snapchat and watch her stories. Her yelling at Rob all the time is pure gold.
Now BRB, gonna go order a Philly cheesesteak.
Citations: Blac Chyna Food Delivery Price (Us Magazine)