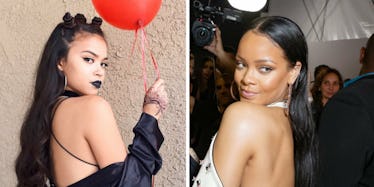 This Teen Dressed Up As Rihanna For 'Celebrity Day' And RiRi Totally Loved It
Twitter/REX/Shutterstock
If I was on an episode of "True Life," it would be "True Life: I Wish I Was Rihanna." And no, it's not just because she dated Drake.
She's just someone I aspire to be. I even get my nails done once every two weeks with the mantra "What would Rihanna do?" in mind.
Told you. Would I ever lie to you?
Rihanna is the epitome of a bad bitch. She does, says, wears whatever she wants and it isn't anybody's business.
So when 17-year-old Shania Ruedas Bernal from Anaheim, California dressed up as RiRi for her school's "Celebrity Day," I was not the least bit surprised.
Is it wrong of me to be kind of salty over the fact that a 17-year-old is more bad than me?
Surprisingly, Rihanna had shared the same sentiments.
When @247papstv on Instagram reposted Shania's photo, it caught the pop star's attention immediately. Peep the first comment.
Of course, Shania was hella hyped to hear this. I know I would be.
The teen did an interview with Buzzfeed and admitted she didn't feel like this immediately. Shania confessed her "stomach dropped and the anxiety started to kick in."
If you follow Rihanna on social media, you would understand why. She doesn't have the best track record of interacting with fans.
Throwing this much shade is so iconic of RiRi. I can honestly say that 2012 was truly the year of the clapback because of Rihanna.
But once Bernal realized that Rihanna actually said something nice, she said she "wanted to walk out of the classroom and scream" and that it "was honestly the greatest feeling in the world to be complimented by Rihanna herself."
I would feel the same way. Being a teen isn't easy, especially as a girl. But having Rihanna gas you up will probably help your self-confidence a lot.
But Bernal is still a normal gal and she'll have those days. She added,
It actually made me feel so great about myself. I'm still going to be a little shy every now and then about everything, but I'm so glad everyone gave me a boost of confidence.
I think it's safe to say that Bernal will be a part of the Rihanna navy for life.
Citations: This Teen Went As Rihanna For "Celebrity Day" And Gained Rihanna's Seal Of Of Approval (Buzzfeed)