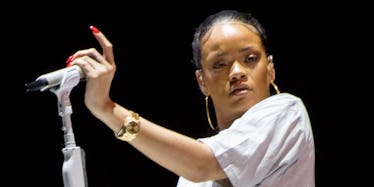 Rihanna's Badass Tee Makes The Perfect Political Statement, And You Can Buy It
REX/Shutterstock
Hillary Clinton's finally done it: She's finally secured her Millennial vote.
And it's not because of Al Gore, Barack Obama or Lin-Manuel Miranda. It's because of Rihanna.
RiRi gave Secretary Clinton her chillest and most effective endorsement yet by simply going outside in a t-shirt.
On Wednesday, before the final presidential debate, Rihanna was photographed in New York City wearing high-waisted denim jeans, Timberland boots, a Louis Vuitton bag and, yes, a t-shirt with Hillary Clinton's face on it.
Boom. No impassioned endorsement speech needed.
All you have to do is be Rihanna, put on a Hillary shirt, look fly as fuck and go let the paparazzi capture your goddess-like self.
By the way, if you're a Hillary supporter, and you want to try and fail to look as cool as Rihanna looks, you can by that shirt for $35 at Trapvilla.
But again, no money back guarantee if it doesn't come with the Rihanna swagger.
So I guess we know which candidate Rihanna is voting for!
Though honestly, if you thought for a second she was going to vote for Trump, you don't know my girl RiRi.
In case you've forgotten, Rihanna was born and raised in Barbados. She didn't move to the US until the early 2000s.
She is, in other words, an immigrant — you know, that group of people Trump wants to deport and build a wall to keep out.
So yes, Rihanna is Team Hil, and no one is surprised.
Again, though, try as Hillary might to understand the kids and their memes, I'm betting this Rihanna endorsement will have Millennials willing to finally grant Hillary the status of "cool."
Just look at that swag.
Rihanna's endorsing Hillary.. Hillary just won the election pic.twitter.com/xPNCMNEshy — Rihanna Reactions (@RiRiHumor) October 20, 2016
Yeah, Hil really owes Rihanna for this one.
Secretary Clinton has never looked so cool.
Now all Hillary needs is Drake to mention her in a breakup song, and she's got this election in the bag.
Citations: Did Rihanna Just Subtly Endorse Hillary Clinton? (ELLE)