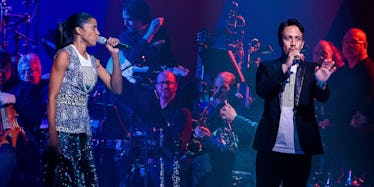 These Broadway Stars Sang For Hillary Clinton, Even Though She Wasn't There
It's probably no surprise Broadway is firmly Team Hillary Clinton in the upcoming election.
But in case you had any doubt, on Monday night some of the biggest names in the theater — Lin-Manuel Miranda, Emily Blunt, Anne Hathaway, to name a few — got together to sing about it.
The evening, dubbed "Stronger Together," was hosted by Billy Crystal and live streamed from St. James Theatre in NYC on Hillary Clinton's official website and YouTube page.
The celebs ended up raising at least $2 million for Hillary from just attendees that night, and that's not taking into account online donations from the live stream.
For fans of "Hamilton," the best part of the night was easily the performance from star Lin-Manuel Miranda and Renée Elise Goldsberry.
Miranda rewrote the song "10 Duel Commandments" with new pro-Hillary lyrics, and it absolutely crushed.
He also tweeted out the lyrics for those who missed the stream.
If hearing Lin-Manuel Miranda shout, "Tim Kaine in the membrane/ Tim Kaine in the brain," in the style of Cypress Hill doesn't convince you to vote for Hillary, I don't know what will.
By the way, if you're impressed with that rewrite, prepare to be even more impressed — Miranda wrote the whole thing the night before.
Other highlights included:
Emily Blunt singing "No One Is Alone" from "Into the Woods" — damn, I know that girl is busy filming the new "Mary Poppins," but can someone put her in a Broadway show?
Anne Hathaway and Kelli O'Hara sang "Get Happy/Happy Days Are Here Again," and Kelli O'Hara absolutely crushed her Judy Garland impression.
I might have teared up a little. Don't judge me.
Unfortunately, Hillary was unable to attend the night, but don't worry: Bill and Chelsea Clinton showed up!
Other celebrities who were in attendance included Sarah Jessica Parker, Neil Patrick Harris, Hugh Jackman, Matthew Broderick, Barbara Streisand, Jamie Fox, Julia Roberts, Angela Bassett, Helen Mirren, Jake Gyllenhaal, Jon Hamm, Sarah Paulson, Lena Dunham and Uzo Aduba.
PHEW!
If the power of song and stardom is enough to get Hillary elected, I think she has a pretty good shot.
Citations: Lin-Manuel Miranda, Anne Hathaway, Sarah Jessica Parker and More Perform at Broadway Fundraiser for Hillary Clinton: Watch! (Entertainment Tonight)