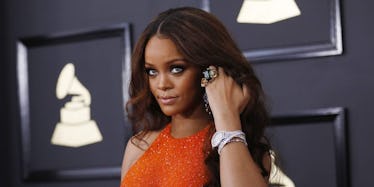 Rihanna Channels Cynthia From 'Rugrats' With Insane Hairstyle In Photo Shoot
REUTERS
Rihanna is no stranger to changing up her look, and her new daring hairstyle has her looking like a doll. Well, one doll in particular.
Paper magazine unveiled its new Rihanna photo shoot on Friday, and I'm not exaggerating when I say the pop star looks super sharp.
RiRi graces the cover of the magazine rocking a seriously edgy, punk new hairstyle featuring bright green spikes jutting out of her head.
And people online are already starting to compare Bad Gal RiRi's spiky hairstyle to one of the staple possessions of another iconic bad gal: Angelica's doll Cynthia from "Rugrats."
Yep, that spiky hair and pink-and-orange fur coat is definitely giving us Cynthia realness. Obviously, it's Cynthia after she becomes human (a la "Life-Size"), gets really into punk and dyes her hair green, but it's Cynthia nonetheless.
But the animated comparisons don't stop there. People are also pointing out the photo shoot, which Paper said is set in a "bodega of the future," could serve as inspiration for some video game creators or anime cartoonists.
I myself am definitely getting some "Yu-Gi-Oh" vibes, if the main character had dyed his hair green.
That spiky green 'do wasn't the only radical hairstyle Rihanna rocked in the futuristic bodega — other photos from the high-fashion shoot feature Rih with a long, frizzy, lavender ponytail, a long orange ponytail under a matching baseball cap and a dark-green wavy wig.
It's clear Rihanna is getting some fashion influence from science fiction, which is something she's been immersing herself in recently.
Last year, she channeled her inner alien and dressed up as a high-fashion martian for her "Sledgehammer" music video, which was featured in "Star Trek Beyond," and she transformed into a shape-shifting alien yet again for her role in the upcoming "Valerian and the City of a Thousand Planets."
So I guess what we've confirmed with this post is Rihanna is a shape-shifting intergalactic anime doll. Thank you for your time.
Citations: RIHANNA! THE SUPERSTAR GRACES OUR MARCH COVER (Paper magazine)