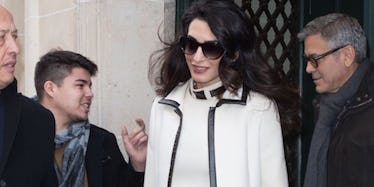 Pregnant Amal Clooney Shows Off Tiny Baby Bump In New Pics
REX/Shutterstock
The year of celebrity twin babies is underway, and Amal Clooney is taking her baby bump to New York City. Fetuses love New York!
Amal made a visit to the United Nations Headquarters on Wednesday in vintage Dior toting two almost humans in her belly.
Though her schedule is staying busy, the barrister is understandably consumed with excitement for her little boy and girl.
She told Radar Online,
It will be one of each! Yes, a boy and a girl. That's what I've been told. How marvelous! My husband and I are extremely excited.
Her husband, George Clooney (an actor) is also excited. They both essentially can't stop talking about how excited they are. They're excited. Their friends are excited. Everyone is excited. It's exciting.
During an appearance on French program "Recontres de Cinema," George told Laurent Weil,
It's exciting! We are really happy and really excited. It's going to be an adventure. We've sort of embraced it, all the changes in our lives with arms wide open… All my friends who are my age, or many of them, have already done this… We had a table of eight guys, and all their kids are away in college… They were all very supportive… Then it got really quiet and they all just started making baby crying noises. The whole table busted up laughing.
Amazing! Sorry, exciting!
Amal and George are going to make two loving, attentive parents. It's pretty evident in the way they've already enriched each others lives (with *~looooooooove~*).
In 2015, George told People,
I've always been an optimist about the world. I wasn't always completely optimistic about how it was going to work out personally for me. But now I am.
Aw, you guys! Amal gave him hope for a better future! That's so cute and gross!
The "Money Monster" star also mentioned he considers having children "the most responsible thing you can do," though he added, "It's not something to be taken lightly."
Yeah, these twins are in capable hands says me, an adult woman who falls asleep on top of her blankets but under a bag of plantain chips four nights out of every seven.
Citations: Pregnant Amal Clooney Is Pretty in Pink, Chic in Black While Showing Off Baby Bump in NYC -- See the Pics! (ET)