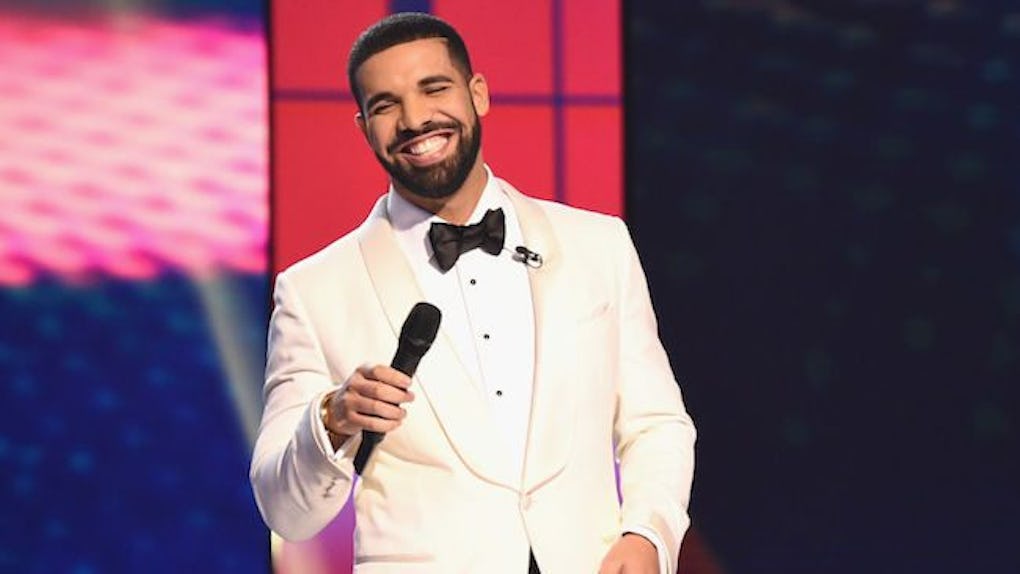 Michael Loccisano/Getty Images
Drake's Instagram Of His Rihanna Socks Might Prove He Still Isn't Over Her
You guys, Drake might still be in love with Rihanna. I repeat: Drake might be into Rihanna again, and we need to talk about it immediately. Drake posted a photo on his Instagram on Tuesday, Aug. 22, 2017, and, although it may be nothing, it could really be something. In his latest photo, the rapper is seen laying on a couch with one leg up, a drink in hand, and looking super fly with, wait for it... Rihanna socks on! Drake's Instagram of his Rihanna socks could mean so much! But what does it mean?!
The socks are a piece from Rihanna's latest sock collaboration, which is so freakin' dope. This particular pair features an image from her music video, "Work." And get this, Drake captioned the photo with the word "Trabajo," which means "work" in Spanish. Come on, Drake. Can you be any more obvious?
The on-again off-again couple has piqued everyone's interest over the last several years. They're both attractive, talented, and kind of perfect for each other. How else were fans supposed to feel, other than obsessed? Also, there was that one time Drake professed his love for Rihanna at the 2016 VMAs, and it was pretty much the cutest moment ever.
Rihanna also released that really hot music video, "Work," and you know, the pair collaborated on that together. Now he's posting photos of himself wearing Rihanna socks from "Work." It's a sign from the music gods, y'all.
Rumors started circulating about Drake and a potential new romance in June 2017 after he arrived to host the NBA Awards with NBA sideline reporter, Rosalyn "Ros" Gold-Onwude, and they looked good together. Really, really good. But that doesn't mean anything. Rihanna and Drake belong together.
So get together, you two. You need to work, work, work, work on your relationship. It's worth it.