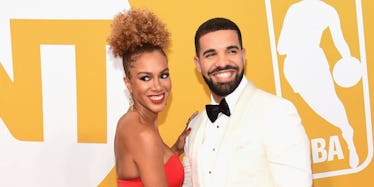 Who Is Drake Dating? Rihanna's Boyfriend Rumors Have Fans Asking Questions
Jamie McCarthy/Getty Images for TNT
Being a famous, celebrity musician just trying to find some love is hard. Ever since Rihanna stepped out with her rumored new boyfriend in Spain, fans have been wondering what the F-word is going on with Drake.
That's because everyone knows Drake is deeply, madly, uncontrollably in love with RiRi, but it doesn't appear to be stopping him from faking that he's not.
Elite Daily reached out to Rihanna's team to confirm the news she reportedly has a boyfriend, but did not hear back by time of publication.
However, we need to talk about Drake.
Rumors started circulating about a potential new romance for Champagnepapi after he arrived to host the NBA Awards with NBA sideline reporter, Rosalyn "Ros" Gold-Onwude on his arm, and fans are losing it.
And from me to you, they make a damn cute pair.
However, a source told E! News they "never took it to a romantic level," but that doesn't mean it's totally impossible. The insider continued,
She is not star-struck, and that's important to him. He likes how normal she is, and she has her head on straight. They laugh and are enjoying getting to know each other.
Elite Daily also reached out to Drake's team for comment on his rumored relationship, but did not hear back by publication.
For now, here is what we know about Gold-Onwude.
She's, like, really good at basketball.
So good, she received a basketball scholarship to attend California's Stanford University where she racked up three trips to the final four.
She was also named Pac 10 Defensive Player of the Year, AND once beat LeBron James in a game of PIG.
Not. A. Big. Deal.
She won an Emmy.
In 2015, Gold-Onwude's NBA coverage won her an Emmy. She was also on sight for the 2016 Rio Olympics.
In a recent interview with Bauce, she said, "I'm a regular girl from Queens. Basketball happened to be my vehicle that got me out of New York and all the way to California."
She's actually known Drake for a while.
Y0u didn't think the two just met, did you? (It's OK. Me too.)
In 2015, Ros' team, The Golden State Warriors, beat Drake's team, the Toronto Raptors, but it seemed like it was all gravy between the two after the game.
Drake even posted a picture with Ros and captioned it, "When the post game makes you forget about what happened during the actual game."
Gold-Oswune also told Scoop B Radio,
He's a big time basketball fan, we've become friends through; just his passion for the game. He's come to a lot of games, he's become really good friends with Steph Curry and his family. So we met through that and every time he's around, it's always fun, jokes, laughter. It's a whole crew of us that'll end up hanging out together or seeing each other at these games. So it's been really cool to cultivate a friendship with him.
She shares the same heritage as Drake.
In fact, it's what Gold-Onwude said first drew her to him. She told Respect Mag,
The first thing was the connection because we're both black and Jewish. My father is Nigerian and my mom is white, Russian, Eastern European background, and Jewish. So, you know, we have that in common.
Sounds like a SLAM DUNK to me!
Ugh. I'm so sorry.
Sure, she isn't a billionaire or heir to the Toyota empire like Rihanna's boyfriend, but at the end of the day, is true love about having things in common or about being rich?
Trick question, probably.
Listen, Drake and Ros, we aren't rushing this or anything... but we're just saying you might be a match made in celebrity heaven. K?